Press Release
Raisbeck High School Students Receive Sponsorship for Solar Car Contest
Jul 14, 2021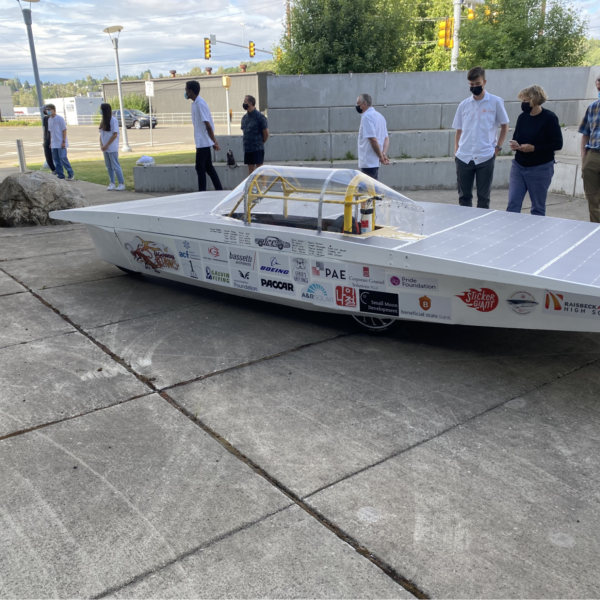 Beneficial State Bank has awarded the Raisbeck Aviation High School Green Energy and Solar Car Team with a sponsorship for its contributions to environmental sustainability
July 14, 2021, Seattle, Wash. – Beneficial State Bank, a mission-driven community bank with branches in Washington, Oregon, and California, announced that it has awarded the Raisbeck Aviation High School Green Energy and Solar Car Team a $500 sponsorship to participate in the 2021 Solar Car Challenge at the Texas Motor Speedway in Fort Worth, Texas, from July 15-22.
Raisbeck Aviation High School, located outside of Seattle in Tukwila, Wash., is a nationally ranked STEM high school serving 25 districts from the Puget Sound. Its Green Energy and Solar Car Team is composed of freshmen through seniors interested in engineering and solving real-world problems, with a focus on energy and the environment. In addition to designing and building clean energy technology, the team engages with local elementary and middle schools to engage students in STEM programs.
To support its community above and beyond its lending, Beneficial State Bank, which has a branch in Seattle's Bullitt Center, provides sponsorships to 501(c)(3) nonprofit organizations engaged in transformative social justice and environmental work. The RAHS Green Energy and Solar Car Team qualifies as a 501(c)(3) through the school's Parent-Teacher-Student Association. Throughout its history, the bank has provided the equivalent of 5-10% or more of its profits to selected organizations, amounting to five to ten times the U.S. average corporate giving of less than 1%.
"As a triple-bottom-line bank serving people, planet, and prosperity for all, sustainability is at the heart of our business," said Randell Leach, Beneficial State Bank CEO. "That's what makes us proud to support mission-aligned organizations like the RAHS Green Energy Team. We're so excited about the impressive work these students are doing to both develop sustainable technology and encourage younger students in the community to follow suit. We are wishing them the best of luck at this year's Solar Car Challenge!"

The Solar Car Challenge is the top project-based STEM Initiative helping motivate students in Science, Engineering, and Alternative Energy. The competition takes place from July 15-22. Learn more about the RAHS Green Energy Team's year-long effort to design and build their solar car.

About Beneficial State Bank
Beneficial State Bank (Beneficial State) is a state-chartered, federally insured bank with branches in California, Oregon, and Washington. Beneficial State serves the triple bottom line of people, planet, and prosperity for all, which involves serving its communities, supporting positive environmental outcomes, and achieving long-term financial sustainability. A unique ownership structure supports these strategic priorities: the bank's capital is majority-owned by the nonprofit Beneficial State Foundation. This means its economic rights are fully aligned with, and permanently governed in, the public interest.
Beneficial State Bank is a founding signatory of the UN's Principles for Responsible Banking, a member of the Global Alliance for Banking on Values, a Community Development Financial Institution (CDFI), Fossil Free Certified, and one of the world's top-rated Certified B Corporations, awarded B Corp "Best for the World" status every year since 2013.
Media Contact:
EMC Communications
BSBPress@EMCCommunications.com
(650) 455-9928
People, Planet, Prosperity for All
We are proud to lend $94 million to support the environment, and $0 to fossil fuel extraction. When you bank beneficially, you choose to support people and planet.
Spotlight on Education and Youth Development
Our clients working in education and youth development show us that investing in young people makes our communities more vibrant and healthy.
Read More