Client Spotlight
Oakland Leaf - Afterschool Programs that Build Resilience
Nov 26, 2018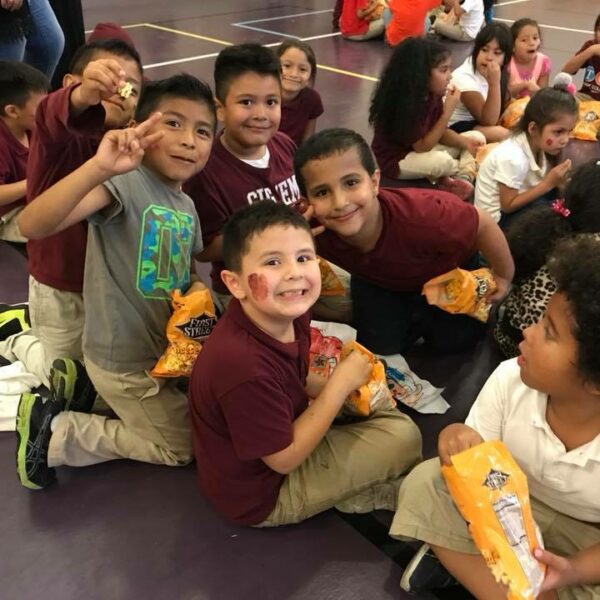 Oakland Leaf saw the school dropout rate for Oakland, California youth and decided to do something about it
Meet the after-school program guiding youth to explore their interests and passions, develop their voices, and grow as students and individuals.
For kids born in Oakland, the educational outlook isn't very positive
This group has an extremely low graduation rate for high school and college. This realization, coupled with the problem of violence in the area in the early aughts, drove a group of Oakland-area educators to found Oakland Leaf in 2001. The founders of Oakland Leaf saw an opportunity to provide programs that would equip future leaders with the emotional skill set to express themselves peacefully and powerfully in a world determined to silence their voices.
"If they don't figure out what they're excited about, what they're passionate about, what their purpose is, they will stop [attending school] and they will find negative outlets for this energy," says Odiaka Gonzalez, Executive Director of Oakland Leaf.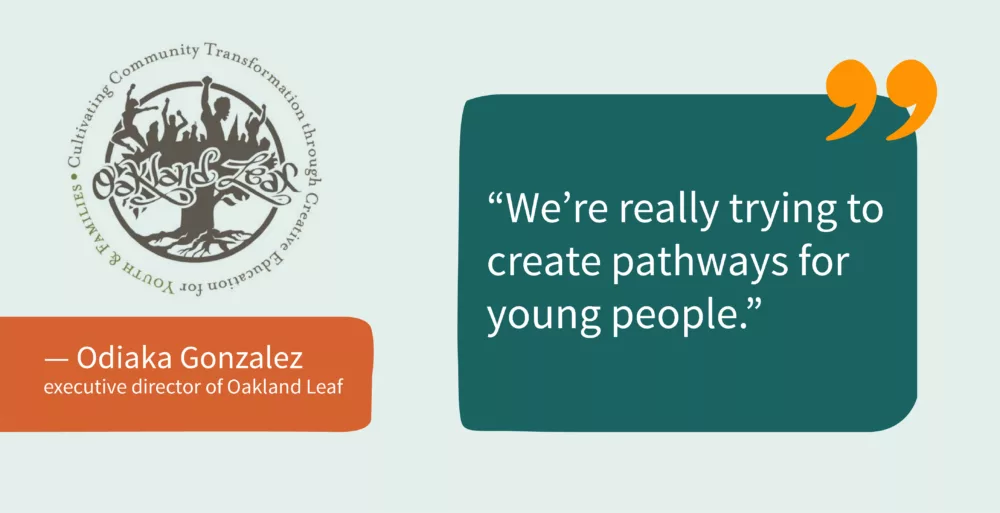 Building a Holistic Program
Oakland Leaf's daily after-school programming is project-based and emphasizes arts and culture; health and wellness; empowerment and leadership; literacy; and S.T.E.M. In action, these programs include a community garden program, cooking classes, sports programs, dance classes and other opportunities.
"We're really trying to create pathways for young people. We're thinking about their social and emotional well-being. We're thinking about their health and wellness. We're pushing them to become critical thinkers and continuous learners," Gonzalez says.
Growing with the Community
The program currently partners with six public elementary and middle schools in Fruitvale and East Oakland,
serving more than 750 middle school and high school students every day.
In order to continue to serve these students and hopefully more, Oakland Leaf sought funding from a bank with a community focus.
"We wanted a community partner that's invested in Oakland and not only believes in our mission but is also aligned with our mission. Why I love [working with] Beneficial State Bank is because they get that they need to contribute and give back to the community," Gonzalez says.
Gonzalez believes we can all examine where we are putting our money—and that an investment in our youth is an investment that will pay off for all of us in big ways for decades to come.
"If we can start at the earliest age to show kids their potential is endless," he says, "there's so much of the world we can change."
People, Planet, Prosperity for All
We lend over $762 million to support affordable housing, health and wellbeing, the environment, and social justice. When you bank beneficially, you choose to support people and planet.
Spotlight on Education and Youth Development
Our clients working in education and youth development show us that investing in young people makes our communities more vibrant and healthy.
Read More
Banking for a Brighter Future
Join our community of nonprofits, B Corps, small businesses, and conscientious organizations with lending and deposit services that help you grow your impact.