Partner Spotlight
Oregon Law Foundation's Visionary Bank Leadership Program
Jun 13, 2023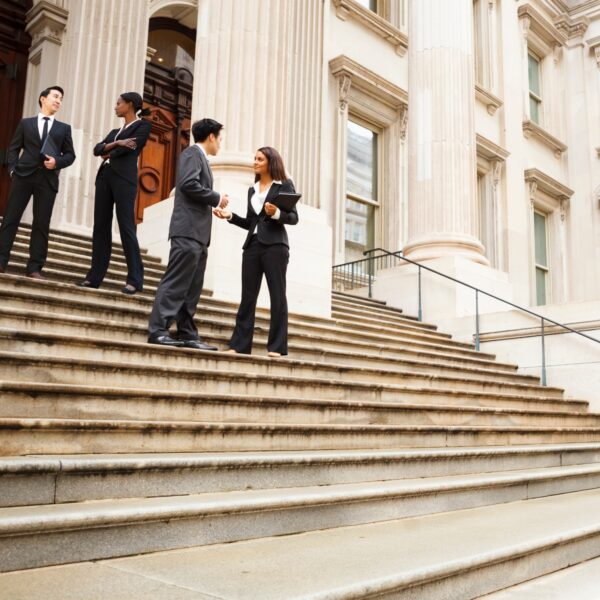 Your bank accounts can deepen your organization's impact
Attorneys must work for their client's interests, so they are legally prohibited from enriching themselves with the funds their clients win in court. When lawyers have client money, they must put it in a separate account called an Interest on Lawyer Trust Account (IOLTA). All interest earned on funds in IOLTAs is paid to a nonprofit organization that works to make legal services accessible to people who otherwise could not afford them. In Oregon, that organization is the Oregon Law Foundation.
The Oregon Law Foundation's Visionary Bank Leadership Program sets up tiers for banks to opt-in to higher interest rates on IOLTAs, creating more money to support legal aid services. Beneficial State Bank participates at the highest tier. Our clients' IOLTAs generate up to 300x more money to support legal aid services than if they were to hold their account at a non-participating bank. Where you bank matters, and IOLTAs are a great example of that.
Banking that benefits our community
Many of our clients seek banking services that align with their values. We're proud to be the banking partner of The Reynolds Law Firm, PC, a practice of lawyers using their degrees to advance social justice causes. "We left our former bank because of their policies toward their transgender customers," says Lorena Reynolds, managing partner. "Banks with policies that prevent a name in use or initials instead of a gendered name on an ATM card put people in danger. Finding out that Beneficial State Bank listens to their communities' needs and has more inclusive policies for trans and gender nonconforming people aligns with our values and practices."
Oregon Law Foundation uses the interest earned on IOLTAs to fund organizations that provide legal services to people of lesser means, promote diversity in the legal profession, and educate the public about the law. Their grantees make profound impacts across Oregon's communities.
Learn more about Beneficial State Bank's community impacts.
Making an impact is good for business
"Our participation in this program is one way we demonstrate our values and add value for our clients. When we can do both things, we operate with purpose," explains Craig Hill, Vice President, Client & Treasury Manager at Beneficial State Bank. Craig was selected as a member of the OLF's Leadership Banker Advisory Committee in June 2023.
In addition to the value this program adds to our clients and communities, participating in programs like the Visionary Bank Leadership Program also benefits Beneficial State Bank. Interest paid above our regular rate is often CRA-eligible (CRA is the Community Reinvestment Act, an important piece of regulatory legislation that strives to ensure that banks meet the credit needs of the communities they operate in). Because Beneficial State Bank is committed to holding ourselves to the highest standards, we elect to participate in programs and partnerships like this, which contributes to our "Outstanding" CRA rating, the highest available rating following a CRA exam. Learn more about Beneficial State Bank's community impacts.
Move your money
At Beneficial State Bank, our vision is an economy that restores our planet and extends prosperity to all. We are proving that the banking industry can and must invest in this future. Together, we hold the power to create a new banking system that is environmentally regenerative and equitable for all. Join us in making this bold future a reality.
Learn more about our business products and talk to a banker about moving your money to Beneficial State Bank.
Choose a Bank that Invests in Tomorrow
A Beneficial Bank serves the triple-bottom-line of People, Planet, and Prosperity for All. That means prioritizing social justice and environmental sustainability. Our clients want to see their money put to good use – funding causes that defend our planet and build resiliency in our communities. Change your bank and help change the world.
People, Planet, Prosperity for All
We are proud to lend $28 million to support social justice, and $0 to weapons manufacturing. When you bank beneficially, you choose to support people and planet.
Spotlight on Social Justice
We advocate for a more just world where all of us have the opportunity to build vibrant, healthy, and free lives.
Read More
Smarter Business Banking
Beneficial Banking™ supports local and regional businesses and organizations that serve our communities. Businesses like these are critical for building economic resilience and providing diverse employment opportunities.