B Corps: Humanity at Work
Nov 10, 2022 | Randell Leach, Beneficial State Bank CEO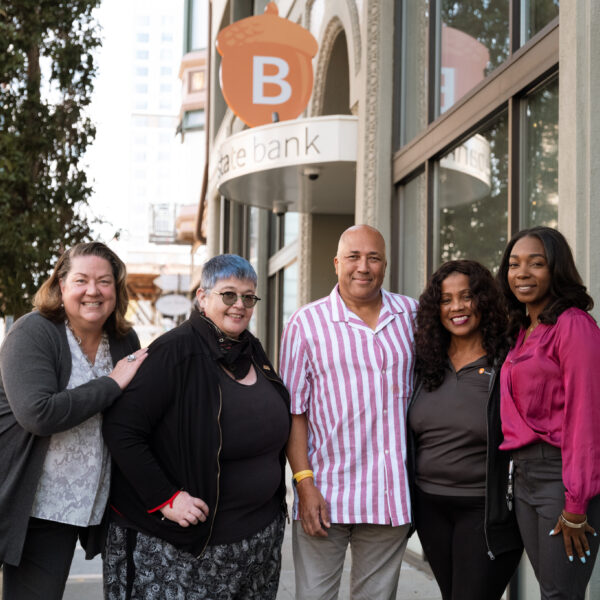 At Beneficial State Bank, rather than serving the single bottom line of profit, as do most traditional businesses, we optimize across our triple bottom line: serving our communities, supporting positive environmental outcomes, and achieving long-term financial sustainability. We prove we "walk our talk" in part by using third-party evaluation tools and certifications, like B Corp certification. This rigorous third-party assessment helps us see where we're leading the way, ways we can improve our business practices to be more aligned with our values, and opportunities to continue to deepen our impact.
It's incredible to be a part of the B Corp community. And in November, we're looking forward to gathering with other B Corps at Champions Retreat, an annual event that brings together B Corps from North America to share best practices, collaborate, and celebrate being a part of a movement that uses Business as a Force for Good.
Proud to be a B Corp Bank
Being a B Corp is a core part of Beneficial State Bank's identity. The values of the B Corp movement are intertwined with our mission and vision, and you may even notice a similarity between the "B" in the B Corp logo and the "B" in Beneficial State Bank's logo. Every team across the bank contributes to our B Corp assessment, and we all share a community and environmental focus to our work. You can read some thoughts about B Corp from two of our team members: Craig Hill and Marcus Martinez.
"Best For The World" since 2013
Each year, B Lab, the nonprofit organization that manages B Corp certification and brings B Corps together at Champions Retreat announces B Corps that are "Best For The World," meaning companies that score in the top five percent of the five main categories B Lab evaluates: community, customers, environment, governance, and workers.
Beneficial State Bank is proud to be recognized as "Best For The World" every year since 2013 (the first year we were eligible). In 2022, we were recognized as "Best For the World" in customers and governance.
Champions Retreat: Humanity @ Work
Over the last few years, Beneficial State Bank has been deeply focused on how to build and strengthen the policies, tools, and programs that we need to address our society's most critical challenges. As a B Corp, we know we can only grow our external impact by continuing to invest in and strengthen our internal policies and practices that center our employees and their humanity.
Beneficial State Bank has celebrated incredible milestones. In 2021, we signed the first bank union contract in 40 years. As a Community Development Financial Institution (CDFI) we make our deep impacts in low-to-moderate income communities, and because of those impacts we received our most significant capital investment ever through the U.S. Treasury's ECIP program in 2022. Last year we reported one of our best years in terms of business performance, community impact, and environmental investment in our history so far. And we know we have more to learn as we strive toward our vision: an economy that restores our planet and extends prosperity to all.
I'm excited to attend Champions Retreat this year with several members of our team. Craig Hill and Stacey Krynsky will be participating virtually. Michele Button, Manny Barragan-Alcaraz, Monique Johnson, Lynn Marie Auzenne, and Beatriz Acevedo from our board will join me in Philadelphia. We're looking forward to connecting with friends, clients, and partners and building new relationships for future collaborations.
Beneficial State Bank is sponsoring the Opening Reception, so you will find our entire team there. And we'll have a table at the marketplace where you can grab some great Beneficial State Bank merchandise. And of course, we'll be in sessions both in person and virtually.
Proud to be a Bank for B Corps
The B Corp movement is more than a certification, it's a community. Our B Corp clients are also our partners, and we work together to make progress toward our shared goals. We invite others who share our vision and values to reach out.
Ready to get started? Contact us to learn more about how we can support your banking needs.
Beneficial Careers
We operate with purpose and strive toward a lofty goal: building an economy that restores our planet and extends prosperity to everyone. Help us work toward a world where we bank with purpose.
Spotlight on B Corporations
As a B Corp bank, we are proud to support other B Corps that show that business can be a force for good.
Read More