Press Release
Beneficial State Bank Recognized as a 'Best for the World' B Corp for its Sustainable Business Practices for the Ninth Year in a Row
Jul 25, 2022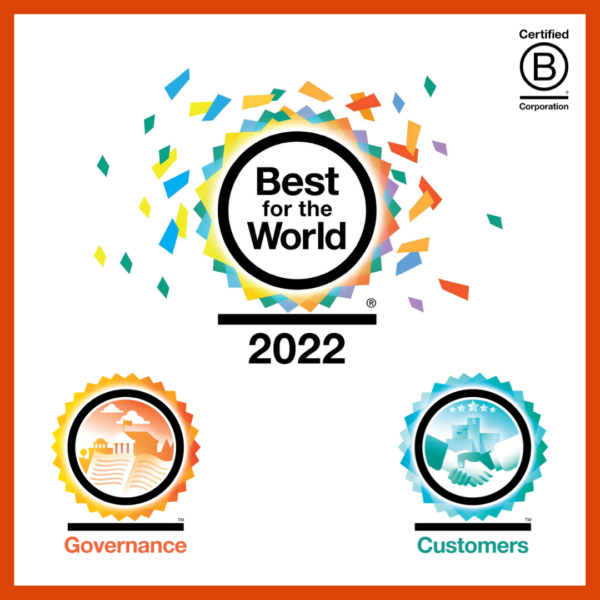 Beneficial State Bank, a mission-driven community bank and certified B Corp serving Oregon, Washington, and California, was recognized once again for being among the top-ranked for-profit companies that meet the highest standards of social and environmental performance, accountability, and transparency worldwide. The bank is the highest-ranked B Corp bank in the U.S. and was also selected as one of the Top 50 winners in the 2022 Real Leaders Eco Innovation Awards
July 13, 2022, Oakland, Calif. – Beneficial State Bank has been named a Best for the World Certified B Corporation in 2022 by B Lab, the global nonprofit network that certifies B Corps. Beneficial State was recognized for being among the top 5% of B Corps in its size group worldwide for its triple bottom line business model and community impact. The bank was also ranked among the Top 50 winners of the Real Leaders Eco Innovation Awards — an annual global ranking of companies that drive environmental social impact in all major sectors of the economy.
Beneficial State Bank achieved a top 5% score in the Customers and Governance categories of the B Impact Assessment. A top score in the Customers area means that Beneficial State Bank is setting the standard for customer service, which it does through its high quality banking services that allow customers to thrive financially while supporting their local communities. Additionally, a top score in the Governance area means that the bank is setting the standard for overall mission, ethics, accountability, and transparency. Beneficial State also has the highest B Impact Score among all B Corp deposit banks in the U.S.
"It's an honor to once again be acknowledged as one of the highest-rated B Corporations in and for the world. Beneficial State Bank's mission is to practice beneficial banking, in harmony with nature, to help more people, and help people more. Our incredible team has pioneered a new way of banking: one that invests in social justice, financial equity, and environmental wellbeing while remaining financially sustainable," said Randell Leach, CEO of Beneficial State Bank. "I'm so grateful to all of our clients and to our staff, whose commitment to the highest standards of customer service and dedication to a culture of transparency and accountability makes our bank one of the Best for the World."
Additionally, Beneficial State Bank ranked #26 on the Real Leaders Eco Innovation Awards Top 50 list among several other global organizations committed to building a healthier planet while achieving sustainable business growth. Real Leaders specifically highlighted the bank's use of the Partnership for Carbon Accounting Financials methodology to measure and disclose the carbon footprint of its loans so that it can set emissions reduction targets and achieve a net-zero portfolio.
"We're honored to be included in the Real Leaders Eco Innovation Awards Top 50 list among industry-leading organizations from all major sectors that are working to build a more sustainable and climate-resilient economy," said Jae Easterbrooks, Vice President at Beneficial State Bank and member of the bank's Earth Services Team. "Financial institutions have a significant role to play in the fight against climate change. We hope our efforts to measure and reduce the carbon footprint of our loans and services encourage industry-wide disclosure and radical transparency for the future of our planet."
As a federally certified Community Development Financial Institution (CDFI), Beneficial State Bank provides under-resourced communities fair and transparent financing and banking services. All of Beneficial State Bank's investments are mission-aligned, with a goal of at least 75% of that lending to go toward the highest-impact organizations and initiatives. The bank does not lend to industries antithetical to its mission, such as fossil fuels, private prisons, weapons manufacturing, or fracking.

About Beneficial State Bank
Beneficial State Bank (Beneficial State) is a state-chartered, federally insured bank with branches in California, Oregon, and Washington. Beneficial State serves the triple bottom line of people, planet, and prosperity for all, which involves serving its communities, supporting positive environmental outcomes, and achieving long-term financial sustainability. A unique ownership structure supports these strategic priorities: the bank's capital is majority-owned by the nonprofit Beneficial State Foundation. This means its economic rights are fully aligned with, and permanently governed in, the public interest.
Beneficial State Bank is a founding signatory of the UN's Principles for Responsible Banking, a member of the Global Alliance for Banking on Values, a Community Development Financial Institution (CDFI), Fossil Free Certified, and one of the world's top-rated Certified B Corporations, awarded B Corp "Best for the World" status every year since 2013.
Media Contact:
EMC Communications
BSBPress@EMCCommunications.com
(650) 455-9928
People, Planet, Prosperity for All
We lend over $762 million to support affordable housing, health and wellbeing, the environment, and social justice. When you bank beneficially, you choose to support people and planet.
Choose a Bank that Invests in Tomorrow
A Beneficial Bank serves the triple-bottom-line of People, Planet, and Prosperity for All. That means prioritizing social justice and environmental sustainability. Our clients want to see their money put to good use – funding causes that defend our planet and build resiliency in our communities. Change your bank and help change the world.