Client Spotlight
Oakland Leaf - Empowering Families in East Oakland
Feb 22, 2022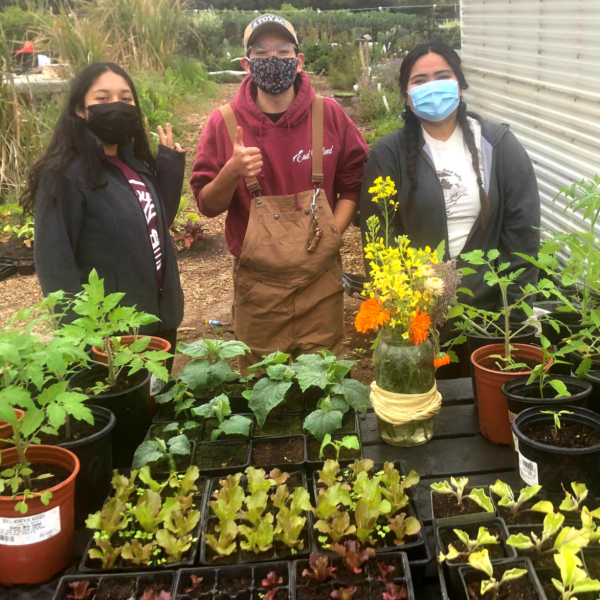 East Oakland is a Bay Area community hit hard by the COVID-19 pandemic. High rates of COVID cases and the challenges of social disconnection were intensified by health, employment, housing, food security, and other struggles that East Oaklanders have faced since well before the pandemic. Oakland Leaf is one organization supporting East Oakland students and families.
Oakland Leaf is a youth development organization that provides a healing space rooted in expert support and a loving community. Founded by teachers in 2001, Oakland Leaf was created to give kids an outlet to express themselves and explore their hopes and dreams. The organization's roots are in creative expression – its first program was an all-city youth talent show. Today, they offer a high school internship program and six after-school programs connected to schools in East Oakland (and a new site opening in 2022-23).

Every child deserves the opportunity to be part of a community that supports their growth at every level. We have the privilege of building intentional communities where every single student can feel loved and affirmed and be fully themselves. We are nurturing the creative, empathetic young leaders who will build a more just, vibrant, and loving Oakland.
Melissa Mendez Ochoa, Executive Director

Supporting youth by serving their families
Oakland Leaf serves 750 students and their families each year with their no-cost programs. All programming focuses on socio-emotional learning principles and includes dynamic, high-quality after-school programs like digital arts, dance, sports, and academic/homework support. The high school program provides paid internships that allow participating students to explore career pathways and receive academic support.
Their two internship program tracks are urban ecology and gardening and leadership development in education. Students learn about food justice and environmental stewardship in the urban ecology and gardening program and run a farm stand from Oakland Leaf's one-acre urban farm. Oakland Leaf also delivers free, fresh organic produce grown at the urban farm to families in some of the most food-insecure neighborhoods in Oakland each week. The education program places students as instructor aids in Oakland Leaf afterschool programs to build their classroom experience in preparation for a career in education. "Most of our interns will be the first in their families to attend college. The stakes are high," says Melissa. "We support them with every step of the process - from visiting schools, filling out applications, and writing personal essays to applying for financial aid and scholarships - and we help them develop the academic and life skills they will need to succeed in college and career."
Oakland Leaf's staff are trained restorative justice facilitators and use trauma-informed practices and culturally responsive learning methods with students and families. "We take a holistic approach to childhood development, including the understanding that serving children means we need to connect with and serve their families too," explains Melissa. "We share information and resources with our families, so they have the tools to support their kids. We saw that our families struggled to access nutritious food, so we built our food distribution program to support them with what they need."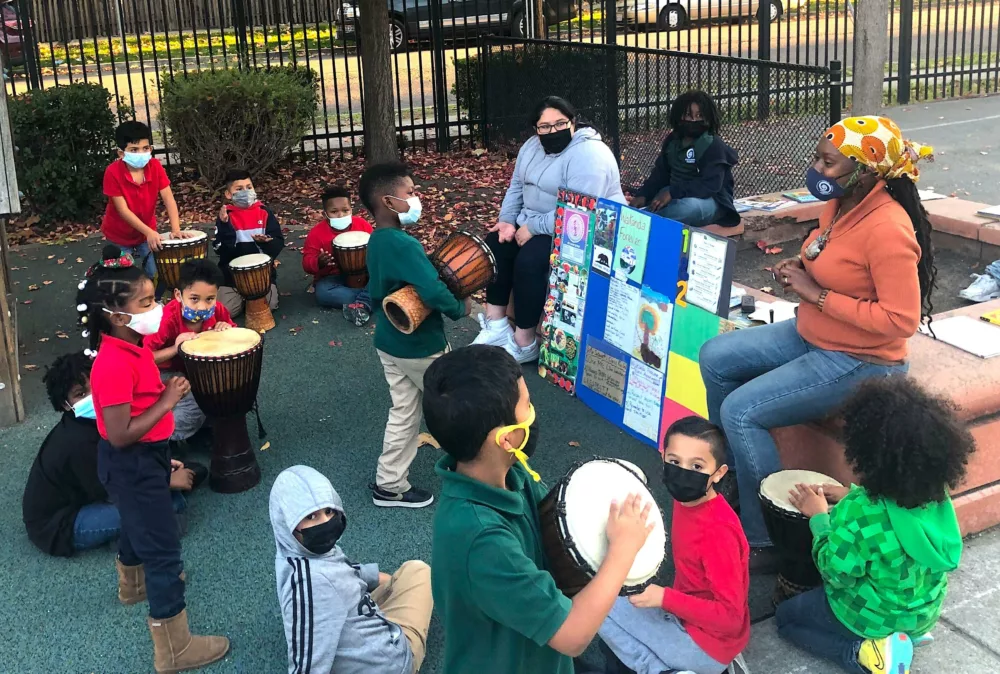 A community that is resilient and brave
Oakland Leaf prioritizes resilience and other social-emotional learning in its programming. "One of the reasons that we were able to successfully adapt our youth programs to these challenging times is that we have always centered resilience, social and emotional learning, and well-being," explains Melissa. "From teaching children mindfulness, self-management, and wellness practices to facilitating restorative justice circles to giving young people the tools to set and achieve positive goals, this work has always been core to our mission of developing critically-thinking, compassionate, resilient young leaders."
A network of community support
During the COVID-19 pandemic, Oakland Leaf expanded its programming with the help of its staff, teacher and school partners, and community support. "We developed a contactless pick-up program for basic needs donated from local businesses and our community members. Whoever needed to could pick up things like detergent, soap, and hand sanitizer. Everyone was encouraged to take what they needed."
Beneficial State Bank was founded to support organizations like Oakland Leaf that make deep and meaningful community impacts. "Beneficial State Bank's staff have provided a lot of support over the years. We remember Dick Fletcher, who was an Advisor to Oakland Leaf's Finance Committee and is no longer with us. And Tommy Edwards [VP, Client & Treasury Manager] who reaches out to us to check-in and make sure we're okay," says Melissa.
"We are proud of how we have been able to show up for our community these past two years," says Melissa. "And while none of us know what the future holds, Oakland Leaf can confidently say that we will be there for our community through it all."
You can support Oakland Leaf's important work by donating.
Banking for a Brighter Future
Join our community of nonprofits, B Corps, small businesses, and conscientious organizations with lending and deposit services that help you grow your impact.
Spotlight on Education and Youth Development
Our clients working in education and youth development show us that investing in young people makes our communities more vibrant and healthy.
Read More