Client Spotlight
Hack the Hood - Training young people to use technology to create a better world
Mar 20, 2023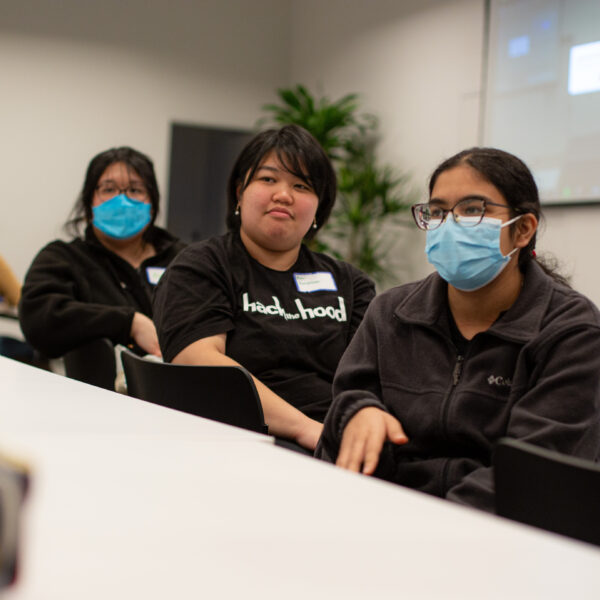 Technology is a central tool in the pursuit of justice
The tech industry has a big influence on our future, from the products we use to how we interact with one another. The lack of diversity in the tech industry impacts product design, decision-making, and company culture. To build a more inclusive future, we need a more inclusive and representative workforce in the tech industry. To build that workforce, we must start with young people. Today's youth are the creators for the future we will all be living in. Hack the Hood in Oakland, California wants to inspire them to use technology to create a better world.
Hack the Hood trains early career Black, Latinx, Indigenous, and AAPI youth ages 16-25 through tech skill-building programs grounded in justice and career-navigated support that ensures economic mobility. All programs are free and program participants (called "learners") are provided with a learning stipend so that they can prioritize the program and not have to choose between going to work and going to Hack the Hood. A free laptop is available to learners who need one.
The program is divided into three parts: hustle, build, and drive.
The first program, hustle, provides an overview of the technology landscape. Learners get initial exposure to tech industries.

The next program, build, is focused on data science, inviting learners to go deeper into what they learned in hustle.

The third program, drive, supports learners to drive their tech careers forward. In partnership with Laney College, learners have access to programming and support as they pursue a degree or a job in the tech field.
After drive, there are additional resources available for learners interested in apprenticeships and internships. "Professional development is a part of all parts of our program," says Ayana Ivery, Senior Manager of Communications. "We invite Black, Indigenous, Latinx, and AAPI folks who work in the tech industry to come speak during our programs. We want our learners to see that there are people like them in the tech industry."

Co-creating a better future
Beneficial State Bank is proud to partner with our clients, like Hack the Hood, to support them with more than just banking services. "We are so pleased to be the member bank for Hack the Hood's FHLB's AHEAD grant. This funding will support Hack the Hood's program as they serve BIPOC youth in our backyard," says Monique Johnson, Senior Vice President, Director of Client and Community Partnerships; CRA for Beneficial State Bank.

I wanted to work with Hack the Hood because these learners are our future creators. This generation has access to more information than any before. They are positioned to make better decisions and use technology to help their communities.
Ayana Ivery, Senior Manager of Communications, Hack the Hood

Teaching critical thinking for a more inclusive future
Hack the Hood's socio-technology curriculum examines how technology and data are used: how they can help and how they can be manipulated. "Historically, the internet has been a space without ethical guidelines. We want our learners to have the information they need to form their own perspectives and use sound judgment as they use technology to create. Our learners see the impact of bias in technology, and by being thoughtful and well-informed, they can be more intentional about what they create," explains Ayana.
To learn about upcoming enrollment opportunities for Hack the Hood's programs, sign up for their newsletter and follow them on Facebook, Twitter, and Instagram.
Summer program applications are now open. Apply here.
Banking for a Brighter Future
Join our community of nonprofits, B Corps, small businesses, and conscientious organizations with lending and deposit services that help you grow your impact.
Spotlight on Education and Youth Development
Our clients working in education and youth development show us that investing in young people makes our communities more vibrant and healthy.
Read More
People, Planet, Prosperity for All
We are proud to lend $28 million to support social justice, and $0 to weapons manufacturing. When you bank beneficially, you choose to support people and planet.