Press Release
New Loan Production Office at Blue Economy Tech Hub AltaSea at the Port of Los Angeles
Jan 12, 2023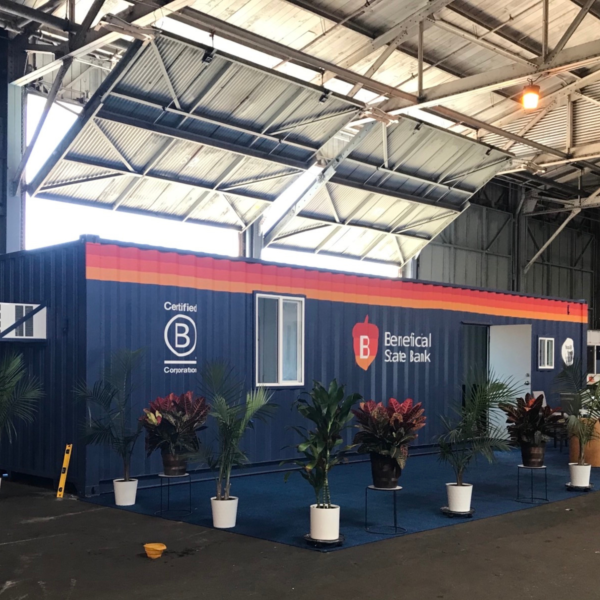 Beneficial State Bank, a mission-driven community bank serving California, Oregon, and Washington, is now serving clients at and around the AltaSea campus at the Port of Los Angeles to support environmental changemakers and speed up the Blue Economy
Jan. 12, 2022, San Pedro, Calif. – Today, Beneficial State Bank unveiled its new loan production office at the AltaSea campus at the Port of Los Angeles in San Pedro focused on supporting clients in the Blue Economy. AltaSea is the nation's largest Blue Economy tech hub, and a valued Beneficial State Bank client. The new location will enable the bank team to have a strong physical presence and mission-alignment with other environmental changemakers based at the San Pedro campus.
"We're proud to be a tenant at AltaSea's innovative campus and a member of its dynamic community of businesses, researchers, and educators," said Monique Johnson, Director of Client & Community Partnerships at Beneficial State Bank and AltaSea board trustee. "As a financial institution dedicated to helping our planet, we know it's essential to invest in the Blue Economy to power ocean-related solutions to climate change while creating new jobs on a local and global scale."
A grand opening and ribbon-cutting was held at the AltaSea campus today, featuring remarks from Beneficial State Bank's founder and Board Chair Kat Taylor, LA City Councilmember Tim McOsker, AltaSea Trustee and Giving Pledge Signatory Dr. Melanie Lundquist, and AltaSea CEO Terry Tamminen. AltaSea partners, like Eco Wave Power, RCAM and USC's aquaculture lab, were present to display their sustainable technologies.
"We are thrilled to welcome Kat Taylor, Monique Johnson, and the rest of the Beneficial State Bank team to the AltaSea campus," said AltaSea President and CEO Terry Tamminen. "Beneficial State Bank's presence at AltaSea will speed up the growth of the blue economy by providing banking services specifically designed for environmentally-focused changemakers, from businesses to nonprofits alike. AltaSea is proud to be a client and partner with them."
"Banking services for environmental impact changemakers should align with the values and goals of those clients," said Taylor. "Beneficial State Bank will continue to empower Southern California's mission-driven clients and, through a new loan production office at Alta Sea, support a green-blue revolution to reform our economy, regenerate our planet, and bring equity to the frontline communities who deserve it."
The Bank has opened up locations in other environmental-focused ecosystems over the last few years, including Seattle's Bullitt Center, Portland's PAE Living Building, and the Los Angeles Cleantech Incubator campus.
Beneficial State Bank's triple-bottom-line business goals include a pro-planet and community portfolio lending target of 75% or more of all loans and loan dollars to mission-aligned purposes. The remaining 25% of loans cannot work against the bank's mission. For instance, the bank does not lend to fossil fuel companies, payday lenders, weapons suppliers or manufacturers, or private prisons. As of December 2021, the bank had nearly $800 million in mission-aligned loans outstanding, including $286 million in affordable housing and $67 million in economic, business, and job development categories.

About Beneficial State Bank
Beneficial State Bank (Beneficial State) is a state-chartered, federally insured bank with branches in California, Oregon, and Washington. Beneficial State serves the triple bottom line of people, planet, and prosperity for all, which involves serving its communities, supporting positive environmental outcomes, and achieving long-term financial sustainability. A unique ownership structure supports these strategic priorities: the bank's capital is majority-owned by the nonprofit Beneficial State Foundation. This means its economic rights are fully aligned with, and permanently governed in, the public interest.
Beneficial State Bank is a founding signatory of the UN's Principles for Responsible Banking, a member of the Global Alliance for Banking on Values, a Community Development Financial Institution (CDFI), Fossil Free Certified, and one of the world's top-rated Certified B Corporations, awarded B Corp "Best for the World" status every year since 2013.
Media Contact:
EMC Communications
BSBPress@EMCCommunications.com
(650) 455-9928
People, Planet, Prosperity for All
We are proud to lend $94 million to support the environment, and $0 to fossil fuel extraction. When you bank beneficially, you choose to support people and planet.
Spotlight on Southern California
Read More
Choose a Bank that Invests in Tomorrow
A Beneficial Bank serves the triple-bottom-line of People, Planet, and Prosperity for All. That means prioritizing social justice and environmental sustainability. Our clients want to see their money put to good use – funding causes that defend our planet and build resiliency in our communities. Change your bank and help change the world.