Client Spotlight
Abacus Wealth Partners – Investments with a Positive Impact on Society and the Environment
Oct 04, 2022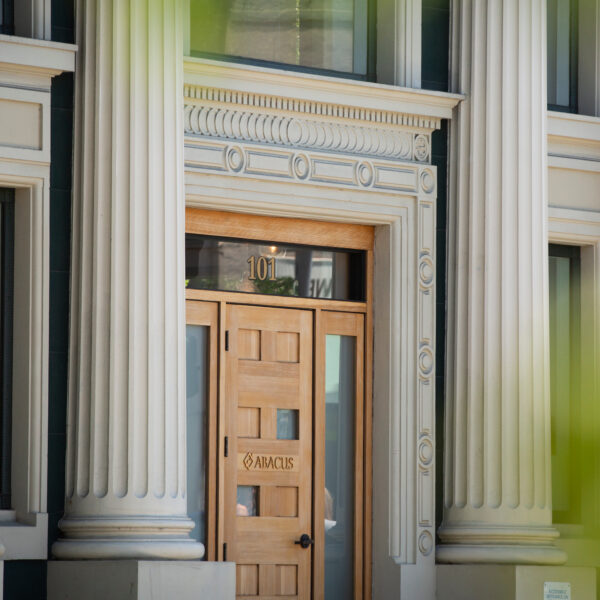 Expand what is possible with money
We all have financial goals and dreams. Whether it's retirement, buying a home, providing your child a college education, or something else just as meaningful, thoughtful financial planning can help you gain the knowledge and security you need to succeed. One company mindfully helping people achieve their financial goals is Abacus Wealth Partners.
Abacus's mission is to expand what's possible with money. Their services include comprehensive financial planning and impact investing, but they don't stop there. Abacus also acknowledges the relationship between psychology and money, and the work they do helps each client honor the personal values most important to them.
"People spend so much time and energy worrying about money and whether they'll have enough to reach their goals," explains Danielle Onesto, Abacus's Marketing Director. "We help people create a values-aligned financial plan that can ease those anxieties and bring peace of mind."
This "people-first" approach to their mission is evident when talking to their team or visiting their website. Abacus' unique financial archetype quiz provides valuable insights into hidden motivations and choices about money, while their Money Meditations invite calm reflection that can help reduce stress and anxiety around finances.
At Abacus, comprehensive financial planning is about more than just the numbers. "There's an emotional and behavioral engagement when we collaborate with clients," says Danielle. "We believe financial planning starts at an individual level. We work to understand the core values of each client before digging deep into the numbers. It's important to see the whole person and to provide support for the emotional, behavioral, and spiritual side of money which has often been taboo to talk about."
Accessible financial services
"It's important to be proactive with your money, but the financial world hasn't always made it easy to understand," explains Danielle. "Instead of jargon and difficult-to-understand financial theories, we strive to use everyday language and feelings that invite people in. By humanizing our approach, we can help undo some of the intimidation people have traditionally experienced with our industry."
Finding a financial advisor that's right for you can be a challenge. Danielle suggests interviewing several advisors and asking specific questions about their approach, including how they get paid: "Look for a Certified Financial Planner™ who is a fee-only advisor, one who you trust and who respects you. If they can't openly answer questions about their strategy, or if they are evasive about whether or not they take commissions or kickbacks, it can be a red flag."
Abacus also offers resources that lower the barriers to entry for people who have not always been valued by the financial services industry. Abacus Academy is a free and growing series of online courses to empower the public with financial knowledge. These resources are often tailored for women and LGBTQ+ folks, two communities historically overlooked by finance. Abacus also offers pro bono services for those who seek financial planning guidance but may not be in a position to hire an advisor at this time.
Business as a force for good
Abacus Wealth Partners has been a B Corporation since its founding. "It was important to our founders that Abacus was more than a money-making business," says Danielle. "We're involved in sustainable investing in public markets, and we work hard to honor the B Corp mantra of using business as a force for good. That's for our clients, our employees, the community, and the planet. The B Corp certification and recertification process is rigorous and has helped us stay accountable to continuously improve year after year, which we're proud of."
Given the many shared values each company strives for, Beneficial State Bank and Abacus work closely when referring clients to each other. "Abacus and Beneficial have a really strong partnership. When we find values-aligned organizations in the finance industry, we tend to stick together," says Danielle. "Since our organizations do different things, we're not competing, we're collaborating. And where there's collaboration, good things happen."
Learn more about Abacus' services today.

Disclosure:
Abacus Wealth Partners is an SEC-Registered Investment Adviser. Nothing in the above statement constitutes an offer to sell, a solicitation of an offer to buy, or a recommendation of any security or any other product or service by Abacus Wealth Partners. For more information about Abacus Wealth Partners please go to abacuswealth.com and adviserinfo.sec.gov/firm/summary/128590. Beneficial State Bank is not a client of Abacus Wealth Partners and was not compensated by Abacus Wealth Partners to write this article.
Smarter Business Banking
Beneficial Banking™ supports local and regional businesses and organizations that serve our communities. Businesses like these are critical for building economic resilience and providing diverse employment opportunities.
Spotlight on B Corporations
As a B Corp bank, we are proud to support other B Corps that show that business can be a force for good.
Read More