Press Release
2020 Impact Report Is Available
Jun 14, 2021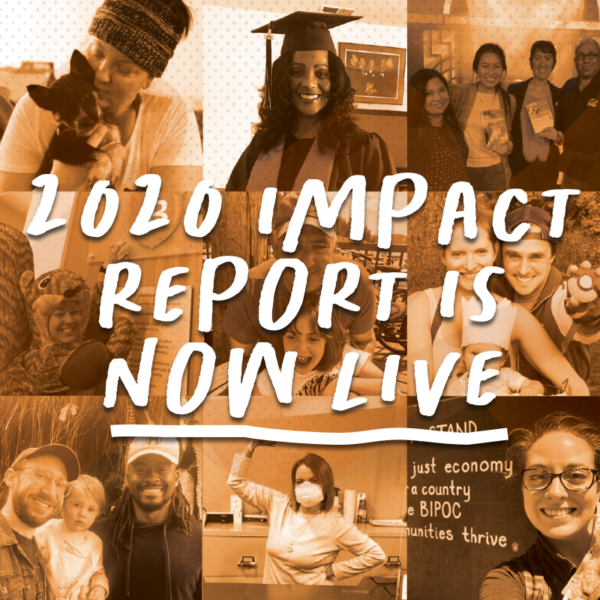 Beneficial State Bank's Annual Impact Report Shows Nearly $1 Billion in Mission-Aligned Loans
As the COVID-19 pandemic exacerbated the economic inequities faced by underserved communities, Beneficial State Bank, a mission-driven community bank serving California, Oregon, and Washington, stepped up to support people and the planet with nearly $1 billion in mission-aligned loans as of December 2020.
June 10, 2021, Oakland, Calif. – Beneficial State Bank released its 2020 Impact Report highlighting how it used its values-aligned lending practices and principles to make nearly $1 billion in loans investing in community well-being last year—including $275 million in affordable housing loans, $274 million in loans to nonprofits, $135 million in loans tackling environmental sustainability, and nearly $200 million in Paycheck Protection Program (PPP) loans to over 1,000 small businesses during the pandemic—outperforming other institutions of a similar size in PPP lending.
"In 2020, more of us than ever saw that the actions we take, including where we bank, are interwoven with the social, economic, and environmental challenges we share," said Beneficial State Bank CEO Randell Leach. "The COVID-19 pandemic amplified the need for a more responsible banking industry by highlighting the inequities that too many face because of the structural flaws in our economic, democratic, and social systems."
Supporting Small Businesses Through the Pandemic
Beneficial State Bank provided $162 million in loans to small businesses. Of that, $33 million was issued to women-owned businesses, and $24 million was provided to BIPOC-owned businesses.
As the COVID-19 pandemic hit, a significant portion of Beneficial State Bank's lending was through the Paycheck Protection Program. The community bank delivered nearly $200 million in PPP loans to over 1,000 small businesses, outperforming other institutions of similar size.
What's more, it waived $527,000 in fees to bank customers and provided more than $100,000 in micro-grants to employee-identified organizations and initiatives experiencing financial hardship during the pandemic through Beneficial State Foundation.
Powering Nonprofits
Beneficial State Bank is committed to financially supporting its nonprofit clients. The bank provided $274 million in loans to over 500 nonprofits, amounting to 28% of its total loan dollars for the year. Of the $200 million Beneficial State provided in PPP loans, 43% went to nonprofits.
Contributing to Environmental Sustainability
Beneficial State Bank uses its lending power to fund clean, renewable energy and the broader environmental sustainability sector. As of December 2020, the bank provided $135 million in loans to the environmental sustainability sector and $42 million in loans to the renewable energy sector, resulting in 645-megawatt hours of renewable energy produced. Through its Clean Vehicle Assistance Program, Beneficial State Foundation (the majority owner of Beneficial State Bank) awarded $7 million in grants to increase access to electric and hybrid vehicles for income-qualified Californians. Beneficial State also commits to measuring and decreasing its own carbon footprint; in 2020, the bank opened a new cashless branch in Seattle's Bullitt Center, a building powered by 100% onsite renewable energy.
Committed to Racial and Social Justice
As a part of its commitment to fostering equity for communities of color and helping them build wealth, Beneficial State not only made $45 million in loans to organizations focused on social justice, but it engaged with other banking associations and organizations to learn and share how to best advance racial justice. This includes hosting webinars on bringing fairness to our financial system and working with the Community Development Bankers Association to deliver educational programming on working toward racial equity in the banking industry. Beneficial State Foundation also developed the "Underwriting for Racial Justice" national working group, which convenes bankers, consumer advocates, and leaders in the community banking development sector to re-imagine business and credit underwriting standards to increase funding to underserved business owners.
Creating More Financial Security For Immigrant Communities
Beneficial State Bank works to empower and provide financial security for all of its customers, including immigrant communities. The bank lends to customers with Individual Taxpayer Identification Numbers (ITINs) and California's AB 60 driver's licenses, which can be obtained without proof of legal residence. In 2020, Beneficial State Bank began leveraging Vantage Scores, which increases the data available for immigrants who do not have a U.S. credit history. During the COVID-19 pandemic, Beneficial State offered financial wellness workshops in English and Spanish for those experiencing financial hardships.
Providing Access to Affordable Housing
As communities across the bank's footprint have some of the highest levels of housing insecurity in the nation, Beneficial State uses its ability to find and fund solutions for affordable housing access, including participating in housing loan programs. As of December 2020, the bank provided $275 million in loans to mission-aligned affordable housing. As a result, the bank supported over 7,000 affordable housing units.
"Since our inception, Beneficial State has demonstrated that a triple-bottom-line model can generate positive outcomes for racial and social justice, environmental sustainability, and financial stability," Leach said. "We will continue developing better and more equitable access to financial products, and seeking to change the banking industry for good because we believe everyone deserves a fair shot at financial empowerment."
About Beneficial State Bank
Beneficial State Bank (Beneficial State) is a state-chartered, federally insured bank with branches in California, Oregon, and Washington. Beneficial State serves the triple bottom line of people, planet, and prosperity for all, which involves serving its communities, supporting positive environmental outcomes, and achieving long-term financial sustainability. A unique ownership structure supports these strategic priorities: the bank's capital is majority-owned by the nonprofit Beneficial State Foundation. This means its economic rights are fully aligned with, and permanently governed in, the public interest.
Beneficial State Bank is a founding signatory of the UN's Principles for Responsible Banking, a member of the Global Alliance for Banking on Values, a Community Development Financial Institution (CDFI), Fossil Free Certified, and one of the world's top-rated Certified B Corporations, awarded B Corp "Best for the World" status every year since 2013.
Media Contact:
EMC Communications
BSBPress@EMCCommunications.com
(650) 455-9928
People, Planet, Prosperity for All
We lend over $762 million to support affordable housing, health and wellbeing, the environment, and social justice. When you bank beneficially, you choose to support people and planet.
Spotlight on Ethical Banking
We envision a more equitable economy and a banking industry that prioritizes a triple-bottom-line: people, planet, and prosperity for all.
Read More