As The Climate Crisis Grips The West Coast, We're Doubling Down On Sustainability
Sep 18, 2020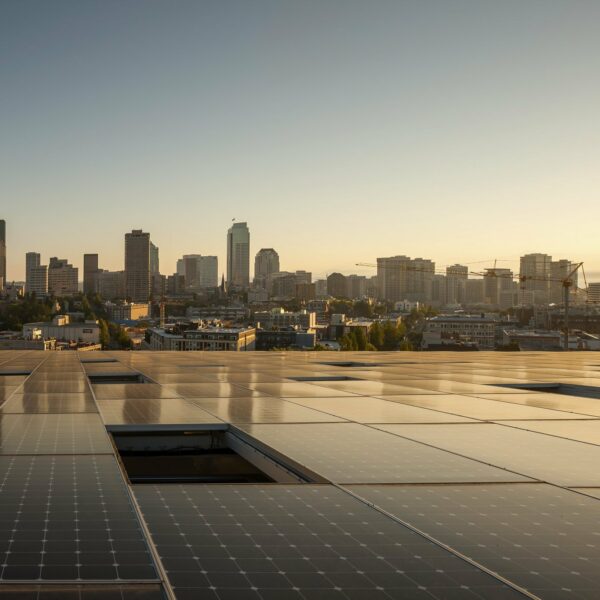 Across the West Coast, record wildfires are burning and our communities are suffering the worst air quality in the world. Smoke from the nearly 90 wildfires throughout 10 Western states is clouding skies across the nation.
The impacts of our climate crisis are all too real—for the communities where Beneficial State Bank operates and beyond. Too often, the debate lines seem to be drawn between the environment and business. This is a false choice. Our environment and our financial well-being are fully intertwined and the cost of ignoring climate change is steep.
Experts estimate the total and cumulative economic loss from the wildfires this year will be between $130 to $150 billion–which includes damage to homes and business and their contents, cars, jobs and wage losses, agricultural losses, infrastructure damage and the costs of power outages to businesses and residents.
We can't afford to ignore the climate crisis any longer. To make real change, we must overhaul the way we do business. At Beneficial State Bank, we believe banks and investors collectively have immense power to guide our resource use. That's why we choose to only fund clean, renewable energy and refuse to fund extractive and dirty energy sources like coal, oil, and gas, and other things that contribute to the exacerbation of climate change.
Our commitment to environmental sustainability extends to where we do business. We're proud to announce that on Oct. 6, 2020, we're opening our newest financial center in Seattle's Bullitt Center, the "greenest commercial building in the world." The Bullitt Center was designed to drive change in the marketplace by showing that a high performance green building is possible. The building uses net zero energy and water, and emits net zero carbon.
Furthering our green mission, Beneficial State Bank's branch in the Bullitt Center will be completely cashless. By utilizing digital technology, we'll help our customers do their banking electronically without relying on paper transactions. You'll be able to set up accounts, talk to our bankers, and manage your money digitally. And this focus on electronic banking – while more environmentally sustainable – will also allow us to provide educational and technical assistance to those who previously didn't have access to a bank account or online banking. In essence, using the power and reach of technology to give them access to the future of banking.
When our Washington branch first opened in a trailer in Ilwaco, we couldn't have imagined that one day we'd bank from the world's most sustainable building. It's the result of a decade of proactive investments in environmental sustainability and climate justice. Today, we also provide financing to some of the most prominent and effective environmental nonprofits in the Pacific Northwest, including but not limited to Grist, the Center for Biological Diversity, the Ecology Center and more.
Because of our deep ties in this space, we're all too aware that the climate crisis continues to pose a grave threat to our economy and to the economic wellbeing of American families. A recent report by the US Commodity Futures Trading Commission states that perceived risks from frequent wildfires and intense hurricanes may cause sudden drops in asset prices that impact markets more broadly—and trickle down to communities.
We believe that financial markets should nourish our communities, not extract from them. But the most recent analysis shows that 35 major banks have poured nearly $2.7 trillion into fossil fuels since the signing of the landmark Paris Agreement on climate change. This despite these same banks paying lip service to the cause of sustainability. This further demonstrates the need for values-based banks that generate positive social and environmental impact while providing capital where it's needed most.
Beneficial State Bank puts our money where our mouth is. And we do the same with your money. Our move to Seattle's Bullitt Center is just the latest example of our shared commitment to a greener future for you, your families, and generations to come.
People, Planet, Prosperity for All
We are proud to lend $94 million to support the environment, and $0 to fossil fuel extraction. When you bank beneficially, you choose to support people and planet.
Spotlight on Environmental Sustainability
Banks have immense power to guide the resources we use. We are proud to provide banking services and lending to support the environment and renewable energy.
Read More