Supporting Our Communities Through Values-Based Banking
Jul 13, 2021
Oakland's Red Door Catering got a leg up from Accion Opportunity Fund and then gave a big hand to Oakland residents with meals during the pandemic.
When Reign Free received her first loan in 2011 to open Oakland's Red Door Catering, it was a chance to live her dream. As it turns out, it was also a chance to serve her community, feeding thousands of people in need during the pandemic. Behind Free and her small business is a chain of support, one that includes a local nonprofit, a community bank, and regular folks.
Here's how it happened: As a Black woman entrepreneur, Free had struggled to access the capital needed to start her catering company specializing in organic, environmentally conscious food. Fortunately, she found Accion Opportunity Fund (AOF), a local nonprofit lender committed to breaking down barriers to financial inclusion. With their help, Free grew her business to 50 team members and a host of clients across the Bay Area. But when shelter-in-place orders hit, she lost most of these clients and had to lay off 80% of her staff. Her dream was under threat.
Rather than give up, Free pivoted. Red Door began fixing meals for people with compromised immune systems who couldn't leave their homes. Red Door provided more than 30,000 meals during the pandemic. Additionally, Free started doing pop-ups and virtual catering to bring in much-needed revenue. "We're starting to find our footing again," she said recently. "And it has been the support — financially, technically, and during the pandemic, emotionally — from organizations like Accion Opportunity Fund that have helped me make it."
Over the past couple of decades, Accion Opportunity Fund has made hundreds of small-dollar loans to about 270 business owners in Oakland, to the tune of $8 million. Earlier this year, a spotlight was shone on Free and Accion Opportunity Fund's hard work when Vice President Kamala Harris returned to her hometown. Harris visited with Free and AOF's CEO Luz Urrutia at Free's kitchen in Oakland to spotlight the work nonprofit lenders like Accion Opportunity Fund did during the pandemic.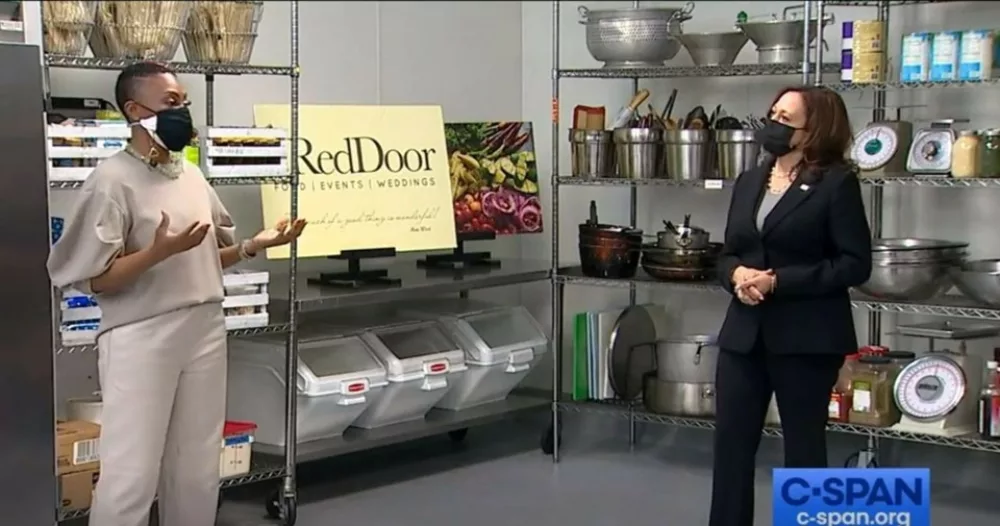 The pandemic made it clear how fundamental small businesses, like Red Door, and local nonprofits, like AOF, are to the well-being of our communities. Small businesses are powerful job creators and revenue generators, playing a huge role in developing vibrant local economies. And nonprofits are dedicated to improving our communities, supporting the most marginalized, and ensuring important services are available to all.

During COVID, as neighborhoods locked down and foot traffic dwindled, small business owners faced tough choices. Many adapted their operations in innovative ways, but roughly 200,000 small businesses nationwide were forced to close for good, and nearly 50% of businesses in San Francisco remain closed. Nonprofits, meanwhile, faced high demand for services to help alleviate hunger and unemployment, and to address increased mental health crises — but many also experienced a drop in revenue.
Now, more than ever, these pillars of our community — like Red Door Catering, Accion Opportunity Fund, and the thousands of other small businesses and nonprofits that did yeoman's work to support us during the pandemic — need our help to continue. There are many ways to support them, from volunteering and donating, to patronizing restaurants and shops as they reopen.
But there's another option you may not have considered: values-based banking.
While many of us think of our money as just sitting in a vault after it's deposited, the truth is that banks use those deposits to build their investment portfolios. Too often, these investments are in harmful sectors, such as private prisons or fossil fuels. But values-based banks, like Beneficial State Bank (headquartered right here in Oakland), make their investments count. Beneficial State loans and invests money into sectors that support our community, like affordable housing, renewable energy, and racial justice. Beneficial State Bank's 2020 Impact Report showed it made $274 million in loans to nonprofits and $162 million to small businesses, including businesses owned by women and people of color.
Beneficial State Bank is proud to have nonprofits like Accion Opportunity Fund as clients, and to watch as they help small businesses like Red Door survive and thrive in our community.
This virtuous cycle shows the impact that values-based banking can nourish. When banks put their values first, they can use your money for the good of people like Reign Free, who in turn uses her business for the good of her community. But it all starts with our choices — to be conscious about where we put our money, to support our friends and neighbors, and to be part of the solution.
So how can you commit to putting your money where your values are?
Here are three steps:
Educate yourself on how banks use your money. If you already have a bank, you can check its website or ask where the bank invests your money and how it actively supports local communities. Good sources of information include Mighty Deposits, Green America, and Rainforest Action Network.
Select a bank that invests in doing good. Values-based banks demonstrate that a bank can generate positive social and environmental impact while remaining financially sustainable.
Encourage friends and family to put their money to good use. Let them know that where they bank matters — their money can be used to help, or harm. Beneficial State has resources here, and Stop the Money Pipeline has a useful checklist, as well.
The COVID-19 pandemic has hurt our communities in many ways, but together we have the power to put them back together. By working with a bank that puts community first, we can help our neighborhood, small businesses, and nonprofits lead the way into a brighter future.
Originally posted July 2021: The Oaklandside "How to support the fabric of our communities through values-based banking"
People, Planet, Prosperity for All
We lend over $762 million to support affordable housing, health and wellbeing, the environment, and social justice. When you bank beneficially, you choose to support people and planet.