Team Spotlight
Q&A with Susan Gates, Winner of the 2021 Seattle Aquarium Scott S. Patrick Award
Jun 24, 2021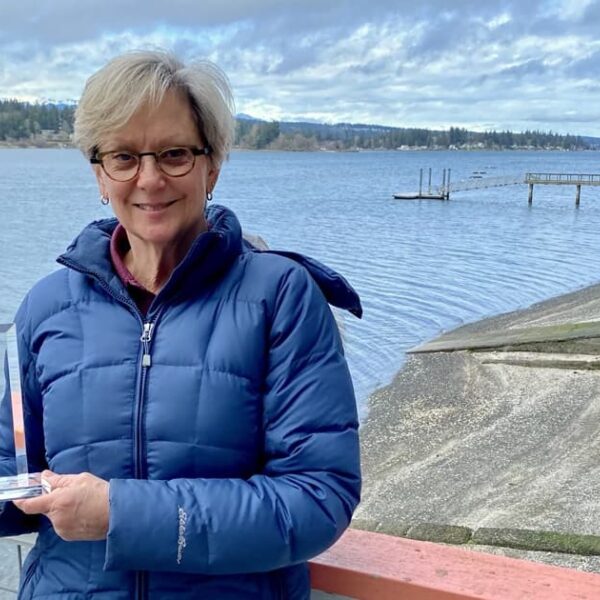 We're grateful for the ways our staff lead in our communities. Susan Gates is part of Beneficial State Bank's team and is a long-time board member of the Seattle Aquarium.
This blog was originally posted on Seattle Aquarium's site and is shared with permission.
Learn more about the Seattle Aquarium.
---
This year marks Susan's 25th year as a Seattle Aquarium board member, and we're proud to honor her with the Scott S. Patrick Inspirational Award. Named for the late Aquarium board member and Seattle Seahawks executive who served with extraordinary passion, the Scott S. Patrick award annually recognizes the Seattle Aquarium board member whose service best exemplifies the passion, leadership and enthusiasm that characterized Scott Patrick's life and board service.

Susan joined the Seattle Aquarium board of directors in 1996 and sits on the finance and project oversight committees. She's a regional credit administrator for Beneficial State Bank, and her previous experience includes being senior vice president of AmericanWest Bank, Key Bank and several other local and regional banks. She also works on several boards for bank trade associations and community nonprofits, as well as on the College of Business and Economics advisory committee for Western Washington University.
Susan's lifelong and deep love of the ocean, along with long-held commitments to conservation and environmental justice, are reflected in her many contributions to our organization. We asked about her impressive tenure and valuable insights below:
Q: When did you first fall in love with the ocean, and how has that shaped your life?
A: My husband, Jack, and our grown kids, Margaret Ann and Elk, are longtime sailors and have sailed all over the Salish Sea. We love seeing orcas, humpbacks and minkes from a proper distance; Dall's porpoises; and seals and otters. We've snorkeled with tropical fish and sea turtles in Hawaii and sailed and snorkeled in the British Virgin Islands and Croatia. All of that has inspired an awe of our one world ocean and a strong urge to protect it, as we have seen fewer and fewer sea creatures over the years inhabiting our area.
Q: What inspired you to join the Seattle Aquarium's board of directors?
A: The "wow" moment for me was when our family traveled to the Shedd Aquarium in Chicago after they opened their Pacific Northwest exhibit in 1991. I had never seen such an amazing exhibit with all of "our" PNW aquatic critters, and I was really struck with the idea—Why isn't this in Seattle? When we got home, I saw that the Seattle Aquarium was planning an expansion, so I pitched them on using KeyBank (my employer at the time) for the anticipated bond financing. That particular expansion and the bonds never happened, but one thing led to another, and I joined the membership committee, then the board—and the rest is history.
Q: The Scott S. Patrick award recognizes strong leaders on the Aquarium's board. What advice do you have for students and young adults who want to become effective leaders?
A:

Be curious, ask lots of questions and observe at school, at work and in your community to find out how things work, and follow your passions.
Think actively about examples you see of good, inspiring leadership and ineffective leadership and keep a list about both. You'll likely find that different leadership styles work with different people/levels of experience/backgrounds/knowledge levels.
Get feedback from team members—it's vital.
Find a mentor and get their insight while sharing yours.
Volunteer on a nonprofit project. Once you see how that works, volunteer to lead a project. Over time it may lead to a board position where you have to take a broader perspective for the organization.
I've found it's often easier to gain leadership experience in volunteer roles—where the stakes are possibly a bit lower than at work—and find ways to gain more responsibility. Then you'll have more experience and practice leading when you step up in work roles.
Q: You're one of the top five longest-tenured Aquarium board members. What keeps you coming back?
A: Through all of these years, there have been interesting challenges for us on the board—always some knotty issue, expansion plans, funds to raise/keep track of, bonds to repay, budgets to balance, events to inspire, guests and members to stir to action, and staff members to encourage and empower.
This past year was awful, but we've been resilient and mercifully have had wonderful support from our amazing team members, board and community.
Q: You have an extensive background in finance. Has that perspective given you any particular insight when it comes to supporting conservation of our marine environment? What has that specific perspective made clear to you or brought to your attention?
A: For an organization to continue do good and improve the environment, and more specifically our marine environment, it needs to be on a sound financial footing or it won't be around to fulfill its mission. And, while there are financial considerations, there is also the human side of running an organization like the Aquarium. We need to be kind and thoughtful with our teammates at the Aquarium; bear in mind how our decisions impact the animals in our care and our mission; and also be mindful of our sustainability as an economic entity.
Q: What excites you about the future of the Seattle Aquarium?
A: We have such a bright future as an organization, starting with the new Ocean Pavilion to expand our marine conservation story and reach. Our recognition of historic inequities in our communities and rededicating our organization to reaching and serving all of our diverse communities and telling their stories and lived experiences is so important. I especially am looking forward to our continued work with the Coast Salish peoples, amplifying Indigenous art and stories as we seek to inspire love and appreciation for our one world ocean.

Beneficial Careers
We operate with purpose and strive toward a lofty goal: building an economy that restores our planet and extends prosperity to everyone. Help us work toward a world where we bank with purpose.