Team Spotlight
A Day in the Life as a Customer Service Representative at Beneficial State Bank
Oct 02, 2023 | Sierra Carroll, Customer Service Representative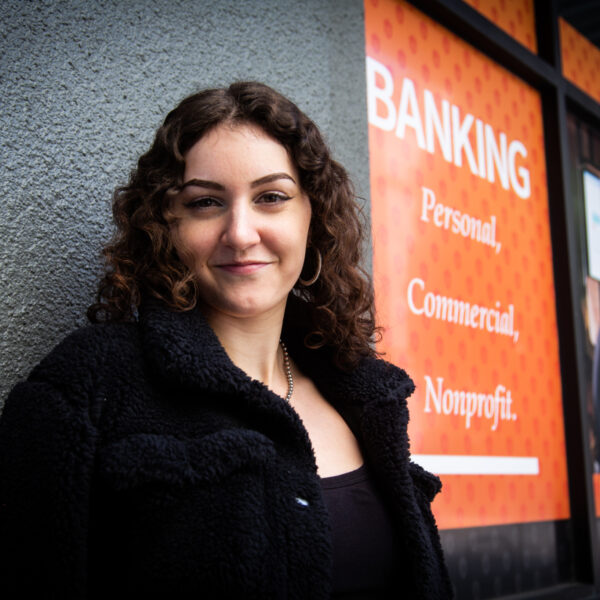 My name is Sierra, and I am a Customer Service Representative (also known as a Bank Teller) at Beneficial State Bank. I work at the Pearl Branch in downtown Portland, Oregon. My job comprises of counting cash, processing customer deposits, and meeting all our lovely customers.
One of my favorite things about working at Beneficial State Bank is our customers. I love getting to know them. I love learning about their lives and hearing their stories while also helping them with their banking needs. Many of them are extremely talented. They have day jobs that support their music careers, are starting new business ventures to support houseless and LGBTQ+ people, and are overall great entrepreneurs.

It is a chilly Monday morning here in Portland. It is now October, which means cooler mornings, and fog in the skyline. Fall is here in the Pacific Northwest! It is the start of a new week, and it is time to get ready for another day at Beneficial State Bank.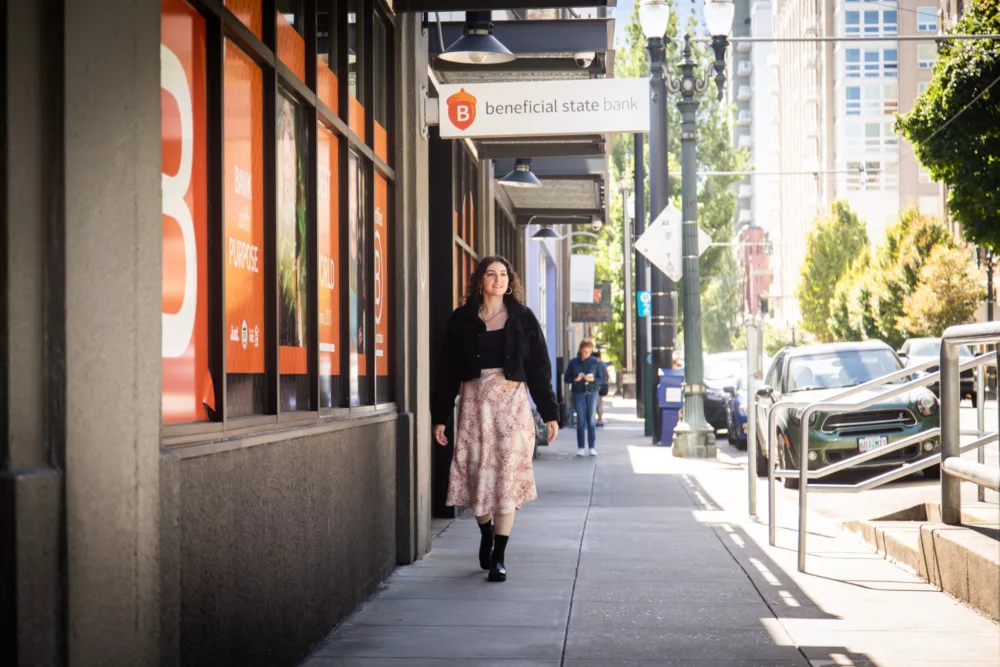 Morning
My alarm goes off. It is time to get myself out of bed and get ready for a new day at the bank!
I get into my car, put on an album for the drive, and jam out on my way to downtown Portland.
Opening up the branch

I walk into the branch, greet everyone, and clock in for the day. I check my emails to see what is going on. We typically have email requests and questions, so we make sure to answer those as soon as possible.
My manager kicks off our Monday Morning huddle to discuss what to work on this week, such as learning the proper procedure to make a cashier's check or which talking points we can use to better understand our customers' needs.

We unlock the doors, and the bank is officially open for the day.
Customers arrive! We have our early bird customers come in and chat about their weekend, while we help them with their transactions.
One of my favorite customers is usually one of the first people to come in. We talk about our favorite things to do in Portland.
Mid-day
I take my first break after a busy morning of catching up on emails and assisting customers. The mail carrier comes in to drop off mail and I open the mail to process loan payments or deposits mailed by customers.

Once I go to lunch, I usually sit in our conference room and people watch. It is one of my favorite things to do.
Afternoon
I am back from lunch, and I check my email to see if I missed anything while I was gone. I answer a phone call from a customer asking to check on their account. We typically get inquiries about accounts over the phone.
If it is a slower day, I will work on office tasks like filing documents or reading procedures.
I take my last break around this time. I sit in the break room and listen to music and people watch again.
Closing up
We close the branch for the day. After this, we are good to leave. Another day at Beneficial State Bank is finished!
Join us!
After another day working at the bank, I am grateful to work in an environment where I am respected, allowed to express myself, and am constantly learning new things. There is always something to learn while working in a bank and I love being on my toes and tackling problems.
Beneficial Careers
We operate with purpose and strive toward a lofty goal: building an economy that restores our planet and extends prosperity to everyone. Help us work toward a world where we bank with purpose.
Spotlight on Our Team
Our dedicated staff are fierce changemakers in the Beneficial Banking™ movement. Read on for stories of their individual and collective impact.
Read More