What Is a B Corp?
Jan 27, 2022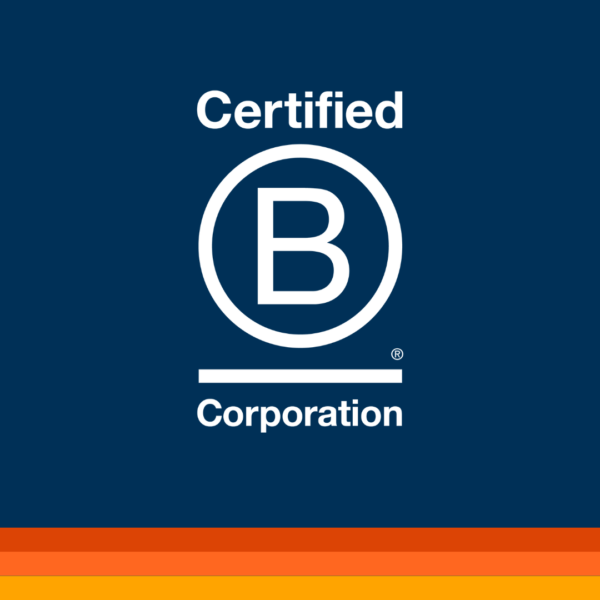 Beneficial State Bank was founded to prove that a better banking industry is possible: we don't need to sacrifice our communities or our planet to run a good bank. In 2012, we became a B Corp, formalizing our commitment to serving our communities and the planet.
Business as a Force for Good
B Corps are for-profit companies that balance the interests of shareholders, workers, environment, and community. Said another way, B Corps embrace a triple bottom line: people, planet, and profit, because a single bottom line (profit) is not enough. People and planet are equally important to long-term success and sustainability.
"B Corps are purpose-driven and understand that we are each dependent upon one another and responsible for each other and future generations," explains Craig Hill, VP, Client & Treasury Manager at Beneficial State Bank. "Businesses should aspire to do no harm and benefit all through their products, practices, and profits. Check out The B Corp Declaration of Interdependence: a more inclusive economy means that business works for everyone,"
In 2011 (at the time of the first B Impact Assessment), there were 400 certified B Corps, primarily based in North America. There are now over 4,000 B Corps across the globe. Beneficial State Bank wants all companies to embrace B Corp principles: doing good is good business.
How to Become a B Corp
B Corp certification requires a third-party assessment that shows your company "walks your talk." Run by the nonprofit organization B Lab, the B Impact Assessment (BIA) is a rigorous third-party audit. Out of a possible 200 points, a company must score at least 80 points to become a certified B Corp.
In 2020, over 50,000 companies engaged with the B Corp Impact assessment. B Corps represent a diverse set of industries and companies. Sole proprietors and big companies alike can participate in the B Corp assessment. The assessment adapts to the company's sector, size, and geography. There is no cost to participate in the process until final certification.
"We recertify every three years, and each time the standards get higher," explains Maria Kei Oldiges, Director, Social Impact Research & Evaluation at Beneficial State Foundation. "By continuing to raise the bar for ourselves, we look for new ways to increase our impact."
What Is B Local?
Whether you work for a B Corp or not, anyone can get involved with your B Local, independent nonprofits that connects local B Corps, purpose-driven organizations, and their supporters.
"Getting involved in your B Local is a great way to learn more about B Corps and support local businesses operating where you live," says Manny Barragan, AVP, Client & Treasury Associate at Beneficial State Bank.
Beneficial State Bank is proud to be a part of B Local Los Angeles, B Local Bay Area, and B Local PDX.
Vote with Your Dollars
How you use your money makes a difference. By supporting B Corps, you align your dollars with your values. Find B Corps to support and learn more about how they use business as a force for good.
We're proud to serve many fellow B Corps, including Opticos Design, urban designers and architects creating beautiful, sustainable, and walkable communities, and Evrnu, which is bringing sustainable textiles to the fashion industry.
If you're interested in banking with a B Corp, please connect with us. Our experienced team is ready to work with you.

People, Planet, Prosperity for All
We lend over $762 million to support affordable housing, health and wellbeing, the environment, and social justice. When you bank beneficially, you choose to support people and planet.
Spotlight on B Corporations
As a B Corp bank, we are proud to support other B Corps that show that business can be a force for good.
Read More
Choose a Bank that Invests in Tomorrow
A Beneficial Bank serves the triple-bottom-line of People, Planet, and Prosperity for All. That means prioritizing social justice and environmental sustainability. Our clients want to see their money put to good use – funding causes that defend our planet and build resiliency in our communities. Change your bank and help change the world.