Client Spotlight
Portland Garment Factory - Pivoting to PPE
Jun 10, 2020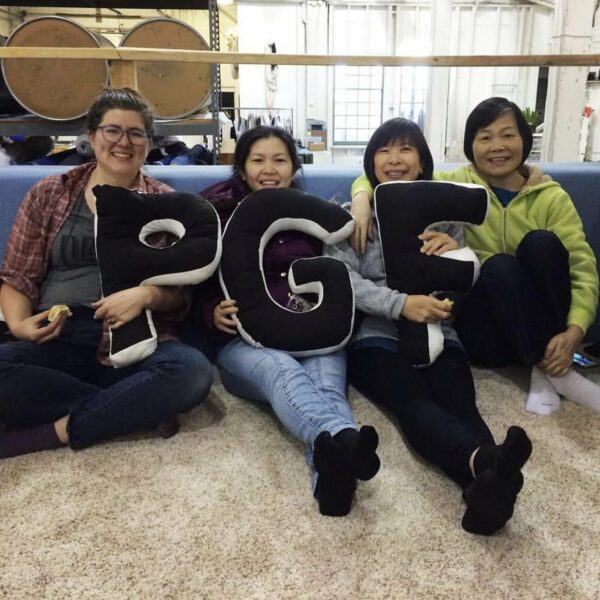 In navigating the Paycheck Protection Program, the $669B business loan carve-out of the CARES Act, we've been able to take stock of what has happened broadly in the market and how we can continue to help our clients during this time.
Despite the program's challenges, the team at Beneficial State Bank was able to help over a thousand small organizations employing nearly 20,000 people, many of which are nonprofits and B Corporations, to secure loans.
Most of these entities are true small businesses with 10 or fewer staff members. Over 85% are mission-aligned with Beneficial State's social and environmental directives. We are shining a light on the positive work these organizations are doing as well as sharing how you can make a difference by supporting them.
Portland Garment Factory
Portland Garment Factory (PGF) is a full-service creative design and fabrication studio, founded by Britt Howard and employs 14 people, all women. PGF is a certified B Corporation, certified woman-owned, and donates 5% of their profits every year. They focus on development, material sourcing, prototyping and production. They intentionally keep their business nimble, and specialize in rush orders.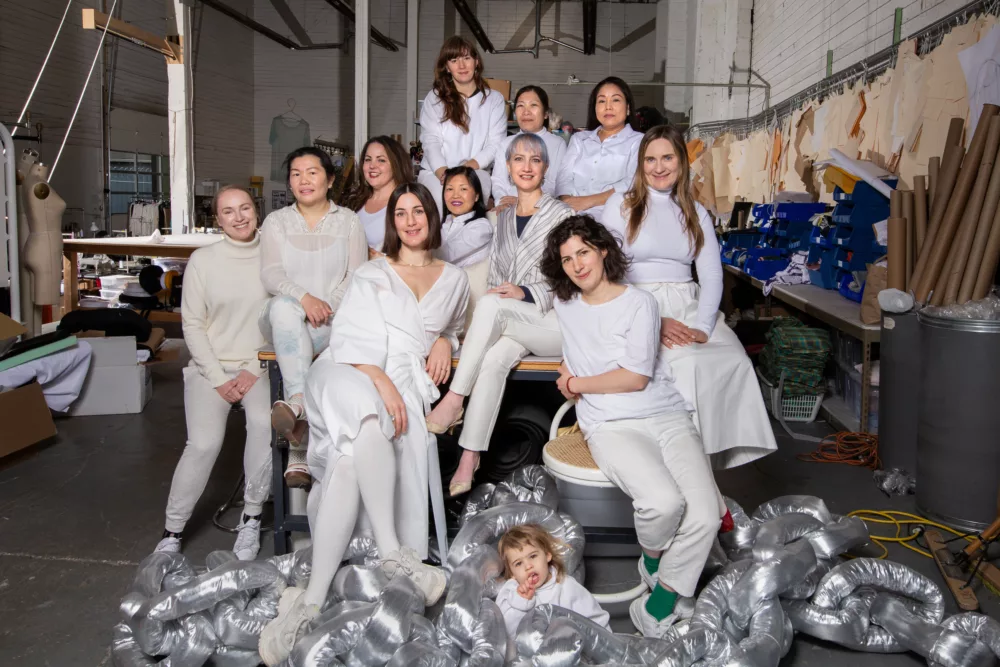 Personal Protective Equipment Pivot
PGF pivoted its business when shelter-in-place orders impacted their demand. They realized this pivot was the best way to not only help, but keep all staff employed. As a certified B Corporation, their team, many working at PGF for more than 9 years, immediately rolled up their sleeves to help fight COVID-19. They refocused on manufacturing Personal Protective Equipment (PPE) for hospitals, Planned Parenthood, and other public service professionals, with the help of a Paycheck Protection Program loan through Beneficial State Bank.
PGF produced PPE for front-line medical staff at-cost at a time when hospitals and clinics were desperate to procure supplies at any price. At the height of demand, they were producing 6,000 units a week.
Now they also have three lines of masks for the general public: the Side Line mask, a reusable mask sold in bulk for essential workers and the general public; the Task Mask, a reusable, reversible mask in fun color combos for all your daily tasks; and their newest mask, LeMask™, a convertible accessory that can be worn three ways: face mask, neckerchief, or head scarf. With every LeMask™ sold, they will donate one PGF-made barrier mask to a local nonprofit supporting underserved communities.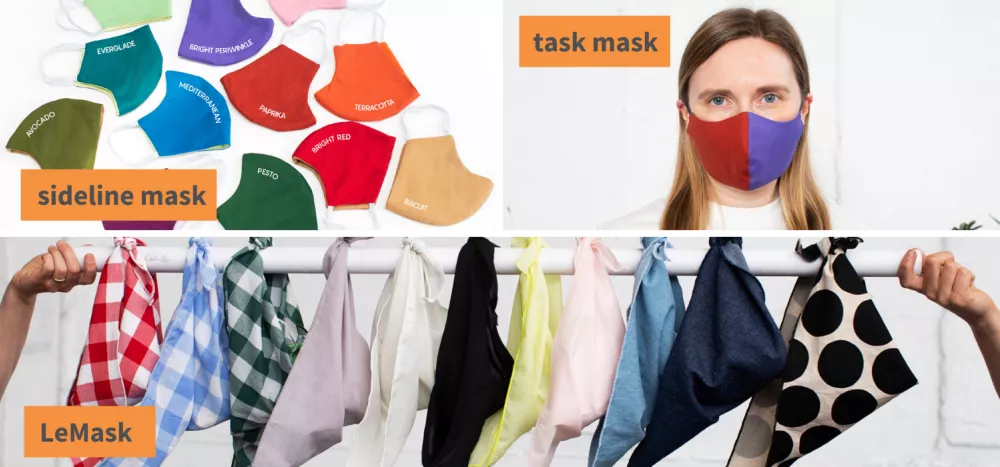 Zero Waste Studio
The zero-waste studio has been upending the factory model for more than 10 years as a leader in garment and soft-goods innovation, design, and fabrication.
Given that the fashion industry is one of the planet's top polluters, PGF believes it is their responsibility to minimize their environmental impact. From their start in a tiny sewing studio, they have been resourceful with how they reuse fabric scraps. One practical way they have cut down on material waste is to be very efficient with how they mark and cut.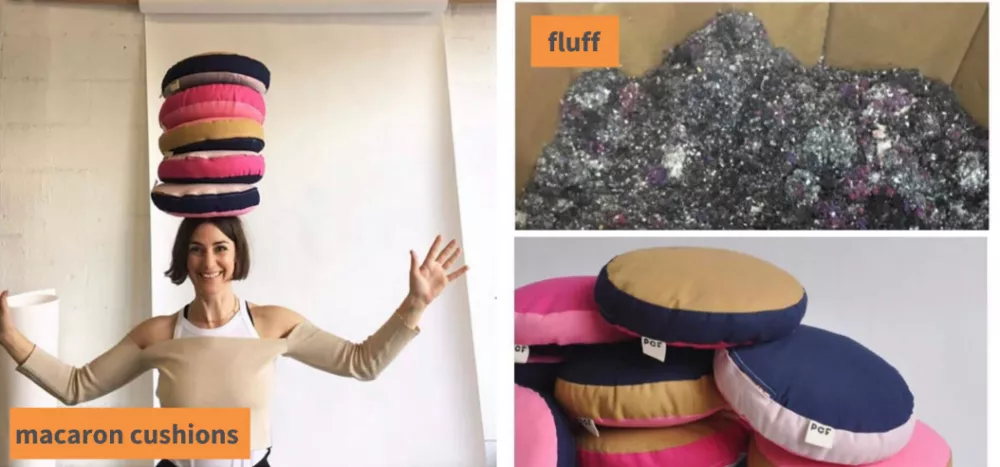 Amazingly, they do not own a dumpster because they do not throw any material waste in the trash. Every PGF scrap takes on a new life. Even those tiny scraps that no one can use, like a two-inch strip of cotton.
In 2018 they started pulverizing those small scraps offsite into what they call PGF Fluff. There are two types of PGF Fluff: organic cotton and mixed material fluff. This innovative approach led to creating a new product line, their Zero Waste Soft Goods line using scraps, and fluff as filler for cushions.
Take a Look Around The Studio
Commitment to "Circular Design"
PGF has a passion for circular design creation. Brands hire them to upcycle their material waste into something new. One of their favorite upcycled projects is EILEEN FISHER totes that made from old EF clothing.
Garment manufacturers make up less than 1% of certified B Corporations. With their "circular design" ethos, PGF is leading the way in sustainable manufacturing. They donate larger scraps to artists, community groups, and educators. In the past they have cut larger scraps into quilting squares for a sewing program at a women's correctional facility, and offered weaving strips for local weavers.
Cultivating Community While Thinking Outside the Box
Doing their part to grow the movement, PGF has multiple programs to incubate ideas and support artists.
PGF's Artists in Residence program (AiR) engages in an open dialogue with emerging and mid-career, underrepresented artists. They provide a platform where the work and ideas of artists of color, LGBTQIA+ artists, and women artists can be seen and heard. Artists in Residence are encouraged to explore the intersection between art, design, and manufacturing, and the ways in which the studio and the factory overlap.
The PGF Lab is their own in-house incubator and experimentation lab for all things weird, wild, and unimaginable. They have created a hand-knitted 40-foot Chicago city flag, and even a giant, inflatable fabric lung. They invite the opportunity to creatively consult on outside-the-box activations.
Ways to Support
Beneficial State Bank placed a large order of masks for our front-line staff. Are you interested in placing an order of 25+ for your organization?
Consider supporting their Zero Waste Soft Goods line. Increased demand allows PGF to upcycle more material waste. Their dream is to one day offer a monthly drop-off where community members can bring their fabric waste for them to pulverize and create a model for other garment factories.

Support one of their long-term partners, the Portland Institute for Contemporary Art (PICA). PICA's programming supports the experiments of the most vital and provocative artists of our time.
Follow Portland Garment Factory on Instagram.

Smarter Business Banking
Beneficial Banking™ supports local and regional businesses and organizations that serve our communities. Businesses like these are critical for building economic resilience and providing diverse employment opportunities.
Spotlight on Organizations Led by Women
We are grateful to work with many women-owned or -led organizations that are leading the way, and we encourage you to read their stories.
Read More