Press Release: Opening New Financial Hub in Bullitt Center
Sep 30, 2020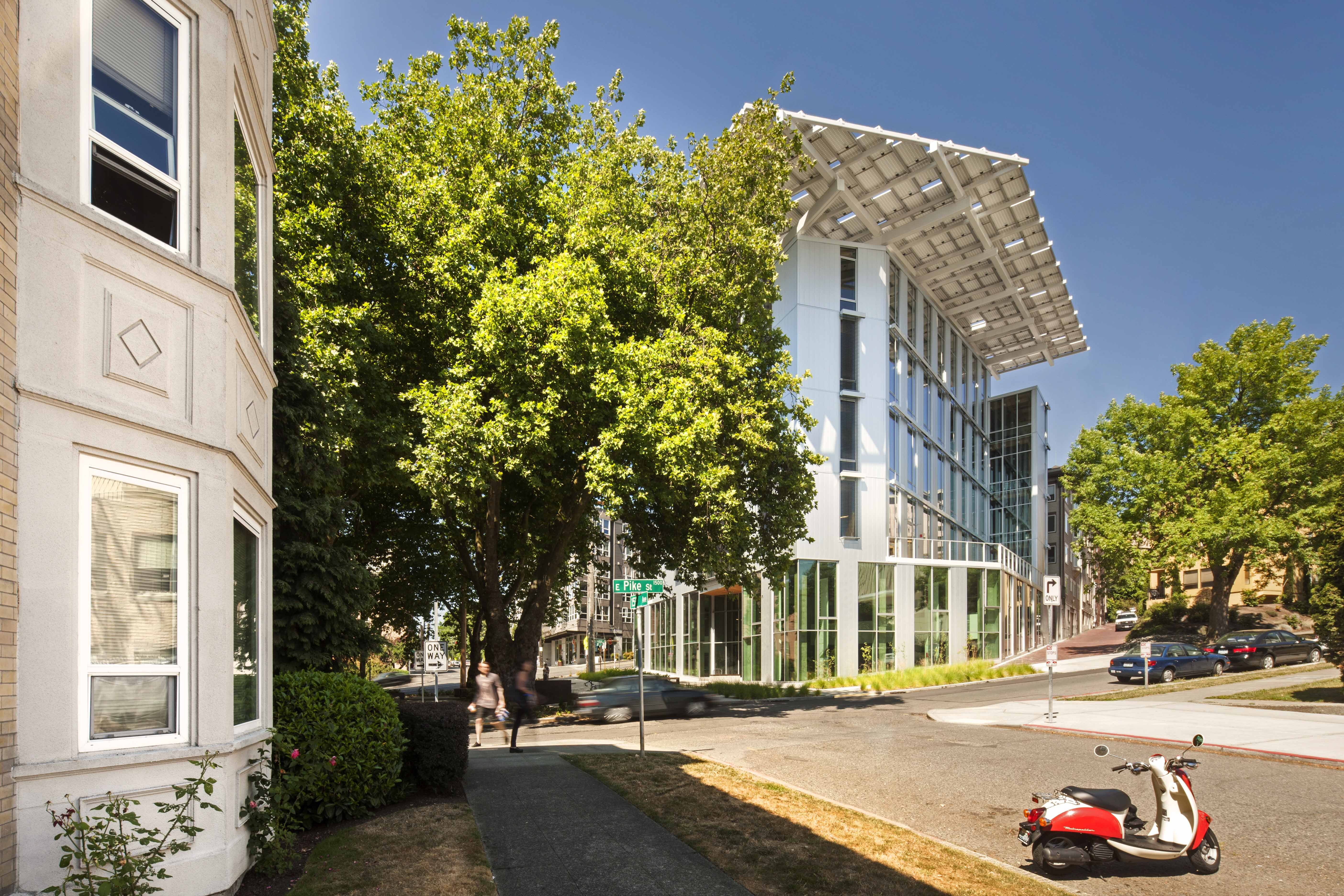 FOR IMMEDIATE RELEASE
Media Contact: Erin Musgrave erin@emcstrategies.com (530) 864-7014

---
Beneficial State Bank, a mission-driven community bank with a strong focus on sustainability, will open a new financial center in the 'greenest commercial building in the world' on Oct. 6, with a goal of providing technical assistance to all Seattle residents–especially the un- and underbanked–to support them in transitioning to the future of online banking
Seattle, Sept. 30, 2020 – Beneficial State Bank, a mission-driven community bank with locations branches in Washington, Oregon and California, will open a new financial center on October 6 in Seattle's Bullitt Center, the "greenest commercial building in the world," in its ongoing commitment to sustainability as Seattle and communities across the West Coast suffer the impacts from the climate crisis.
To celebrate, Beneficial State will host a free outdoor concert and giveaways at the Bullitt Center on Friday, Oct. 9 from 4-6pm. The performance will feature local musicians from Capitol Hill.

"When our Washington branch first opened in a trailer in Ilwaco, we couldn't have imagined that one day we'd bank from the world's most sustainable building," said CEO Randell Leach. "It's the result of a decade of proactive investments in environmental sustainability and climate justice coming to fruition."

Furthering Beneficial State's green mission, the new financial center will be cashless with the exception of the branch's ATM. By utilizing digital technology, the bank will help its customers do their banking electronically without relying on paper transactions. Customers will be able to set up accounts, talk to bankers, and manage their money digitally. The center will also focus on teaching Seattle residents how to use less paper and less cash, and move toward the financial future of digital banking.

"We recognize the importance of ensuring that the evolution of banking doesn't inadvertently leave some groups behind, but we also believe it's incredibly important not to unintentionally disadvantage people by failing to provide them with the ability to become bankable and move their finances online," said Calvin Coleman, VP, Regional Manager of Retail Banking at Beneficial State Bank. "We are working to balance supporting people in low income areas who have previously been cash intensive, and changing their view of becoming bankable. This new financial center will focus on giving people the tools they need to learn how to bank online so they can move away from solely relying on cash and gain access to safer, more flexible banking options enjoyed by more affluent segments."
Beneficial State's new financial center in the Bullitt Center is located at 1501 E. Madison St. in Seattle.

As a federally certified Community Development Financial Institution and certified B Corporation, Beneficial State provides under-resourced communities fair and transparent banking services.
---
About Beneficial State Bank

Beneficial State Bank (Beneficial State) is a state-chartered, federally insured and for-profit bank. Its economic rights are majority-owned by the non-profit, Beneficial State Foundation, which is in turn permanently governed in the public interest. That ownership allows the bank to prove and maintain an innovative model for banking that generates benefit for people and the planet and avoids harm to any while being financially safe and sound.
Beneficial State is both a Community Development Financial Institution (CDFI) as designated by the US Treasury and a Certified B Corporation, with Beneficial State ranking among the world's top B Corps since becoming a Certified B Corporation in 2012. For additional information, visit http://www.beneficialstate.com. Member FDIC Insured, Equal Housing Lender.