Sep 12, 2019 |
Press Release: "Best For the World" 2019 Announced
Beneficial State has been recognized as "Best For The World" in five categories for our exemplary societal and environmental impact
Today, we've been named a Best For The World honoree in recognition of our company's positive impact on the environment, our workforce, our local communities, our suppliers, our customers, and our corporate governance.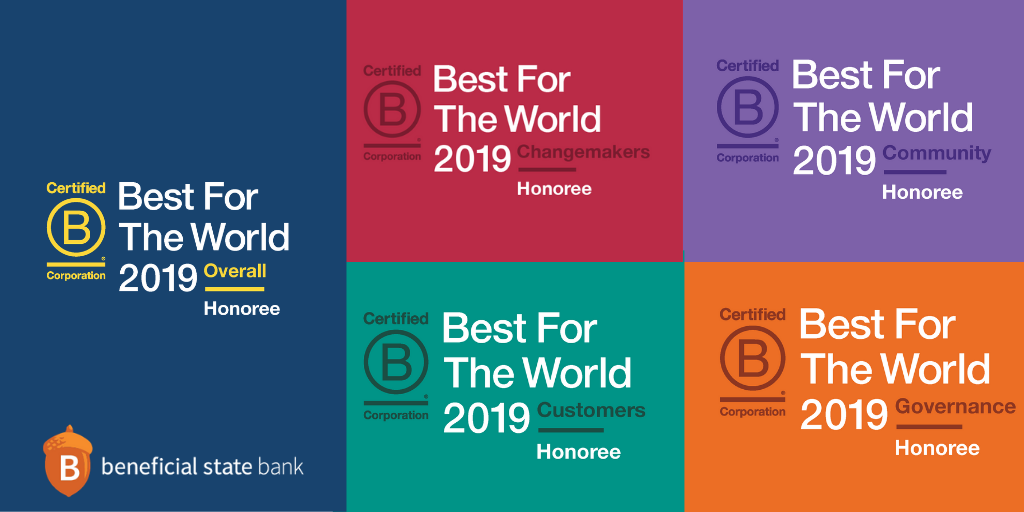 We rank in the top 10% of all B Corps across all of these impact areas, earning us a well-deserved spot on the Best For The World: Overall list, the Best For The World: Community list, the Best For The World: Customers list, Best For The World: Governance list, and the Best For The World: Changemaker list.
Best For The World recognition is administered by B Lab, the global nonprofit that certifies and supports Certified B Corporations, which are for-profit companies dedicated to using business as a force for good. Today there are 3,000 Certified B Corporations across 64 countries and 150 industries, unified by one common goal: to redefine success in business.
We certified as a B Corporation in 2012 and have been a Best for the World honoree for six consecutive years.
In 2017, we re-certified and received one of the highest B Impact Assessment Scores: 176. To certify as a B Corp, a company must achieve a minimum verified score of 80 points on the B Impact Assessment. The B Impact Assessment asks questions about how the day-to-day operations of a company create positive impact for the company's workers, community, and environment.
1,000 B Corps from 44 countries were named to the 2019 Best For The World lists, including Patagonia, Abacus Wealth Partners, LLC, Dr. Bronner's, and Greyston Bakery. The 2019 Best For The World honorees are determined based on the verified B Impact Assessments of Certified B Corporations.
The full lists are available on https://bcorporation.net/.
---