Client Spotlight
United Bakery - Small Business Creates Opportunity and Delicious Sourdough
Mar 08, 2022
High-quality, wild yeast sourdough bread is a challenge to make, requiring a sourdough starter, technical baking skills, time, and patience. The result is delicious bread with various health benefits. Few bakeries take the time to make traditional sourdough, opting for faster, cheaper approaches. However, United Bakery in West Sacramento, California specializes in producing varieties of flavors and shapes of sourdough bread, including Non-GMO Verified sourdough, USDA Organic certified sourdough and gourmet breadsticks. "We ended up specializing in sourdough because other bakeries weren't making it the old-fashioned way. We realized we could do something unique," says Dinh Nguy, founder of United Bakery. While some bakers make sourdough bread in quick turnaround, United Bakery takes nearly 24 hours for each batch of bread.
Dinh Nguy has over 30 years of experience in the baking industry. His experience started as a way to create a job for himself after relocating from San Francisco to Sacramento. "My wife got a job in Sacramento, and I was having a hard time finding a good job because I looked young," Dinh remembers. "We decided to open a bakery for fun after working at a bakery in the Bay Area. We inherited an almost century-old wild yeast sourdough starter and felt compelled to continue its legacy. We thought, 'There's nothing to lose. If we fail, we'll go back to work.' But the business kept growing."
United Bakery's first location was in a 900 square foot shopping center in Rancho Cordova. "We made $80 in sales on the first day from other business owners and employees in the shopping center. We were making everything by hand and working really hard," reflects Dinh. They've grown and expanded several times since and just expanded in a 65,000 square foot building that employs over 40 people.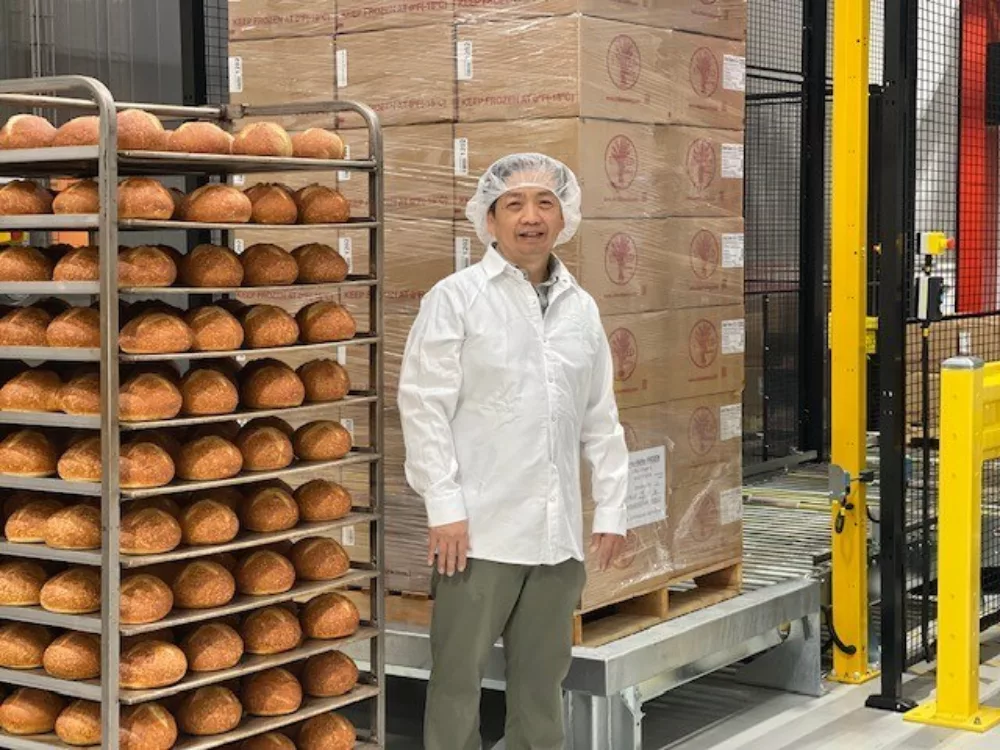 High-quality, healthy food
"Food is comfort. Being able to enjoy food that is well made and with clean ingredients is important, and that's what we provide," says Dinh. "Our customers love our product, and I appreciate their support. Almost all of our business is from word of mouth," says Dinh.
You can find United Bakery bread or breadsticks in local grocery stores like Berkeley Bowl, Whole Foods Market, Raley's, Nugget Market, other Bay Area supermarkets, and national chains. United Bakery reaches nationwide all the way to the East Coast. "We send a few pallets per month just to Manhattan, New York," shares Dinh.
Partnering for business success
"I came to Beneficial State Bank because their team strongly believed in me and my passion," says Dinh. "They've been advocating for me and my business growing ever since. Even as my business has had its ups and downs and faced many challenges, I've always paid my loans on time, and Beneficial State has been a great partner and believed in me."
Visit United Bakery's website and learn more about their private label options for your business.
Smarter Business Banking
Beneficial Banking™ supports local and regional businesses and organizations that serve our communities. Businesses like these are critical for building economic resilience and providing diverse employment opportunities.
Spotlight on Organizations Led by People of Color
We are proud to support companies and organizations owned and led by people of color who are leading the way toward a more equitable world.
Read More