Client Spotlight
Ancient Celebrity - Bringing Opportunities to Women Makers
Jul 19, 2021
Ginger Fields was a creative kid: she could draw and sew and had a strong interest in costume design as a possible career. This creativity would fuel her future career, leading to Ancient Celebrity, a mission-driven clothing brand based in Oakland, CA.
Ginger has lived in California, New York, and Vancouver, BC, and has worked worldwide throughout her fashion design and manufacturing career. "At 22 years old, I was hired by the GAP, and that experience changed my life. I got what felt like an MBA in the apparel industry." After leaving Gap Inc., Ginger continued her career in manufacturing and fashion apparel, working and living along the Pacific Coast. Along the way, Ginger began saving to start her own business, but the idea took some time to form.
Ginger has had the opportunity to travel extensively for her work. In her travels, she cultivated her knowledge of textile history, how textiles are made and preserved and grew her collection of antique textiles. "I'm in search of the authentic history of both the textiles and the makers," she explains.
"When thinking about starting a business, I wanted to find a way to bring together some of my passions: fashion and having a personal connection to where things are made, environmental justice, workers' rights, and empowering women with ownership opportunities. The idea for Ancient Celebrity was born from these ideas."
After traveling and spending time in India, Ginger knew the rich history of textile arts and the prevalence of artisan production in the country would be a good fit for her burgeoning business idea: "It took two years to find the right partnership, but it was clear once it came together it was the right fit."
Then COVID-19 began. Ginger and a women-run artisan group in Jaipur, India met on FaceTime every week to develop products for Ancient Celebrity. Ginger was eventually able to travel to meet and live with the artisans for three weeks, which helped solidify the plans for the launch in Summer 2021.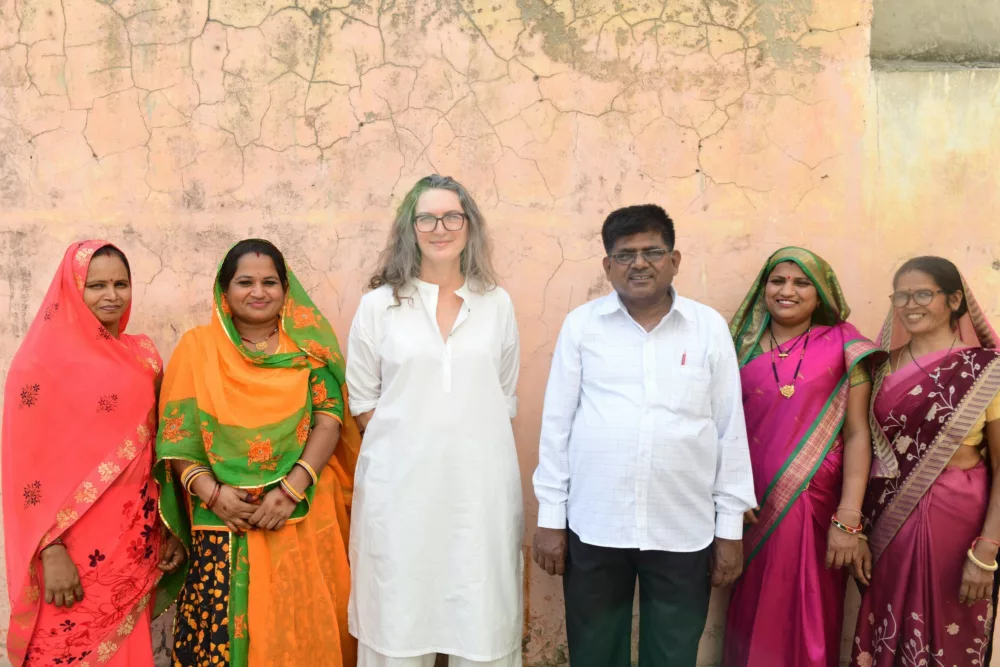 Now, Ancient Celebrity is a conscious-living brand for women who think about the impact of their purchases and want to move their money toward women-owned companies. Ancient Celebrity focuses on quality, fit, and construction, making garments that last and fit well. Products arrive with instructions about how to care for the items. Ancient Celebrity is also launching educational information about caring for and repurposing your existing wardrobe.

Ancient Celebrity takes its environmental commitments seriously. Many products feature organic, recycled, and upcycled materials, and they've taken steps to minimize waste in their manufacturing and packaging through a partnership with Re-Pack. Customers don't receive any plastic in their orders and can repurpose all materials that come with the products -- including returning the outside packaging to be reused again through RePack's circular packaging model.
Ginger and her family had already moved their money and investments from conventional banks into credit unions. When Ginger was looking for the right place to bank as she launched her new business, she specifically looked for banks that were B corporations. "I liked that Beneficial State Bank was also based in Oakland, where my business is," explains Ginger. "It's been a phenomenal experience working with Beneficial State: I can pick up the phone and call or text and have everything taken care of right away."
The long-term goal of Ancient Celebrity is to close the gender gap in ownership by giving women opportunities to own their work. Central to that mission is building partnerships in the local communities it touches. "My relationship with Beneficial has introduced me to some of the Oakland-based businesses that I now partner with," Ginger says. She is also working toward establishing Ancient Celebrity as a certified B corporation.
"Starting this business required a big shift in my life and lots of sacrifices, but aligning my personal values with my work and finances was a huge motivation," says Ginger. You can find Ancient Celebrity's products and support women-owned makers on their website. Or follow along on Instagram or Facebook.
Smarter Business Banking
Beneficial Banking™ supports local and regional businesses and organizations that serve our communities. Businesses like these are critical for building economic resilience and providing diverse employment opportunities.
Spotlight on Organizations Led by Women
We are grateful to work with many women-owned or -led organizations that are leading the way, and we encourage you to read their stories.
Read More