Client Spotlight
The Dolores Huerta Foundation - Empowering Community Organizers in the Central Valley
Oct 28, 2021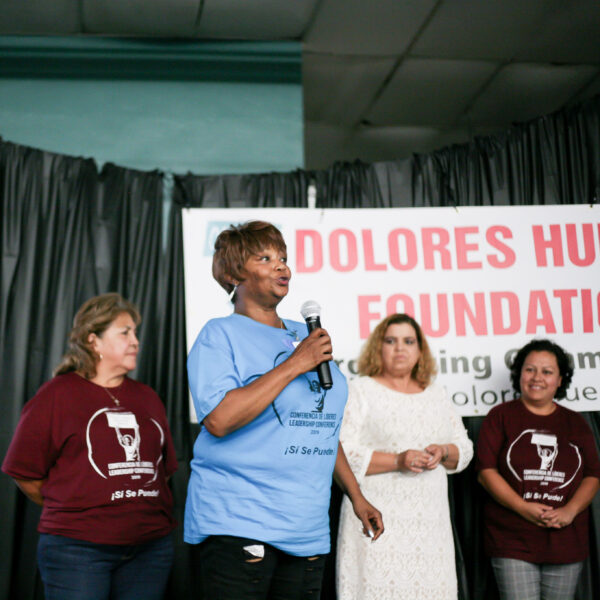 A culmination of Dolores Huerta's lifetime commitment to labor rights and social justice, the Dolores Huerta Foundation (DHF) was founded in 2003 with the $100,000 that Huerta received from winning the Puffin/Nation Prize for Creative Citizenship. DHF is a 501(c)3 organization on a mission to inspire and organize communities to build volunteer organizations empowered to pursue social justice through grassroots civic engagement and community organizing.
"Civic engagement is about knowing your representatives and holding them accountable," says Camila Chávez, Executive Director of the Dolores Huerta Foundation. "Our goal is to get decision-makers in conversation with community members. Civic engagement lets people claim their power by being actively engaged. We want folks to understand and flex their power."
The foundation serves Kern County, Tulare County, and Fresno County in California's Central Valley — home to some of the most underinvested communities in the state. In fact, the poverty rate in every county in the Valley is higher than that of California as a whole, with some counties reaching nearly 20 percent or higher.
For the dedicated team at the Dolores Huerta Foundation, civic engagement is about more than just boosting voter registration. It's about building a culture of collectivity and accountability between community members and paving the way for locally-led, sustainable change. Communities know what they need, and DHF seeks to empower traditionally marginalized communities to advocate for themselves and the needs of their ecosystems.
As part of DHF's mission to strengthen civic engagement, it partners with local and state-wide organizations such as California Calls and Power California 99 Rootz to increase civic participation among low-income, disenfranchised youth and their families to reduce racial and socioeconomic disparities.
"The core of DHF is the belief that the people closest to the issue are in the best position to lead us to the right solutions. We work with community members to help them access the information and tools they need, and we let the community lead us," says Fabiola DeCaratachea, Communications Director at the Foundation. "The community members form groups and determine together what issues to tackle. We support them on issues as broad as healthcare for all and as specific as sidewalks in their neighborhoods."
To better serve their mission, DHF is working to build a revolutionary campus for members of the community. The space will bring together organizers and offer support with day-to-day needs. Camila says, "We don't need permission to build systems, places, and spaces to tell our stories and nurture organizers. This campus is going to be an organizing hub and home for the community."
The Dolores Huerta Foundation chooses to bank with Beneficial State Bank because of their shared values.

We've turned down partnerships with other financial institutions because of the harm they have done in our communities. Beneficial State is a different kind of bank. The co-founders are inspiring and their vision reflects a similar vision to that of Dolores Huerta.
Camila Chávez, Executive Director of the Dolores Huerta Foundation

Learn more about the Dolores Huerta Foundation's inspiring work by visiting their website, and donate here to support the construction of their community campus.
People, Planet, Prosperity for All
We are proud to lend $28 million to support social justice, and $0 to weapons manufacturing. When you bank beneficially, you choose to support people and planet.
Banking for a Brighter Future
Join our community of nonprofits, B Corps, small businesses, and conscientious organizations with lending and deposit services that help you grow your impact.